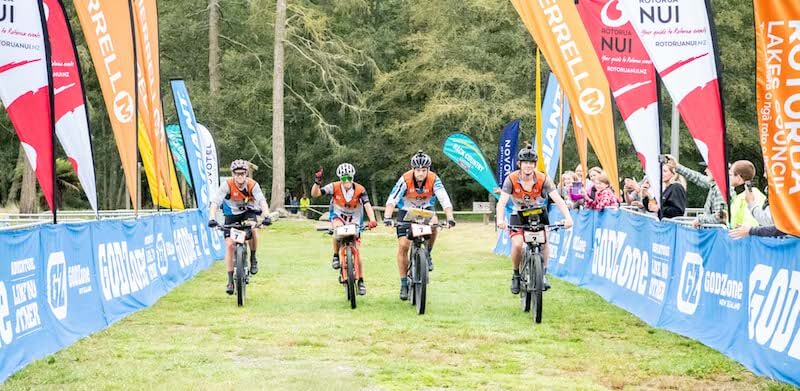 Latest News
TEAM ISPORT STRATEGIC TO PLACE
Wednesday 10th March 2021
News Categories
Former All Black Captain Richie McCaw has leveled up his performance at GODZone today to take out a second-place alongside his isport teammates, Coast to Coast champions Dougal Allan and Simone Maier, along with Theo Wordsworth.
"I have to say it's nice to get to the finish line – I was concerned that during that last stage we would make a mistake in the forest on the bikes, so it's a relief to get it done finally," said McCaw. " That last kayak section on Lake Taupo was great to get off the legs after that big trek in the Kaimanawas."
Team isport has gone toe to toe with Queenstown's team Tiki Tour over the past six days of racing the 666km Chapter 9 course. McCaw says his team was strategic about getting past them before it was too late in the game.
"On the trek, Tiki Tour was running too hot for us to get in front of them, so we just bided our time. We both entered the Lake Taupo paddle leg simultaneously, but we gained and caught them up just before coming into the Kinloch transition this afternoon. I think they were a bit surprised by that and we just went for it."
Simone Maier said racing in the North Island for the first time was intriguing.
" It is way different here in Rotorua than racing in the South Island, and we didn't see many people out there, just amazing scenery. The course had so many different elements – sometimes it felt like two Coast to Coasts in one day," she said.
The isport team was welcomed into the Redwoods Forest finish line at 5 pm by Richie McCaw's wife Gemma, daughter Charlotte and parents. His teammate Rob Nichol, who had to miss out on GODZone due to the Covid Level 3 lockdown in Auckland, was also on hand to congratulate the team.
Team Tiki Tour is expected to arrive in third place at the GODZone finish line this evening.
GODZONE CHAPTER 9 KEY INFO
Race Dates: Friday, March 5th– Sunday, March 14th
What:The world's largest expedition adventure race held for the first time in the North Island, New Zealand. Teams will race over an unknown course over eight days across the wider Rotorua /BOP district.
Length of race:GZ PURE teams will experience roughly 365km of mountain biking, 140km of paddling, and 190km of trekking in total.
Course & Maps:GODZone teams use various disciplines such as pack rafting, trekking, mountain biking, mountain trekking to go from point to point through the course. The course is open 24 hours, and competitors will race day and night, stopping at transition areas to change disciplines and pick up equipment.
GPS Tracking: All teams are required to carry a GPS tracking system (yellow brick) at all times while on the course. Media can follow their progress on our live site at https://godzoneadventure.com.
Media Output: Video clips, high-resolution images, and VNR's sent out daily. If you would like to receive news on a specific team, please email margo@qt.co.nz
Facebook: http://www.facebook.com/godzoneadventure
Instagram: https://www.instagram.com/godzonepure
For more information, interview & imagery requests contact:
Margo Berryman
GODZone Media Manager
P:+64 21 246 3342
E:margo@qt.co.nz