Enter
International Teams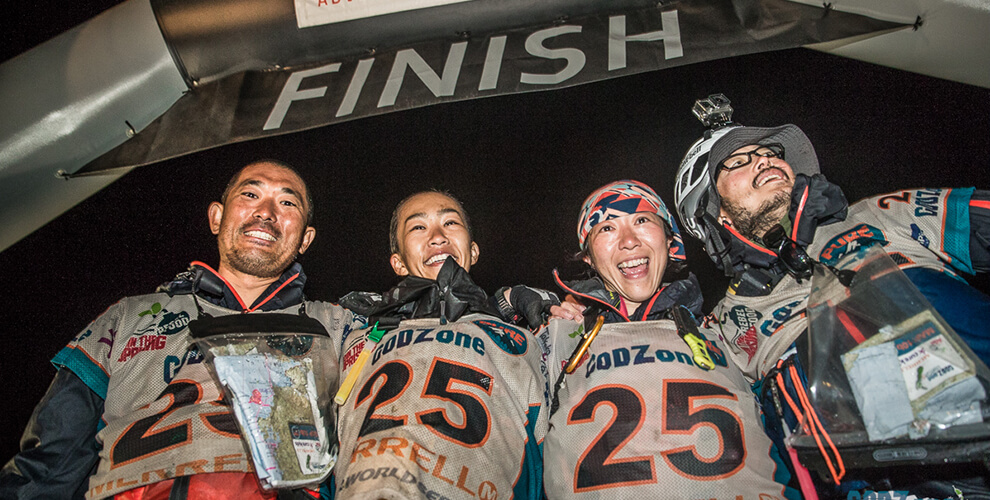 "Now that the dust has settled, I can say that it was the best event ever for me. It will be hard to ever do any other expedition race (and perhaps ever do unsupported) again! You are on a winner with the Pursuit format, and not just as a stepping stone event. It takes a lot of the stuff I (and others) don't like out of the big expedition events, and focusses on the best bits. The support took a lot of the stresses away. The course length was spot on to allow the sight seeing "competitors" a chance to see most of the scenery in daylight (important for us who don't see that sort of country every day!), without limiting those wanting to race at the pointy end to still push through the nights. We will be back!"
New Zealand – Aotearoa – The land of the long white cloud is one of the most isolated countries and one of the great tourist destinations of the world. Within its small compass it has an amazing range of scenery and a complete portfolio of every sport and adventure activity. New Zealand is a long way from home for some international teams. However, visiting this country and sporting paradise is one of the most exciting things about entering GODZone. Despite the large distances this small island, surrounded by ocean, has never been easier to get to. The proliferation of air travel means there are daily domestic and international flights that arrive directly into the host city, Christchurch, and the event hub at Akaroa is less than 90 minutes away by vehicle.
There are a variety of ways to get to the host venue, Christchurch – Akaroa, via air, coach or self drive. The most convenient option will be to fly domestically or internationally direct to Christchurch airport. From there teams may elect to self drive, coach or make use of the international transfer option – see below. If you are looking to make more of your stay in New Zealand, you could also fly to Queenstown or Wellington, making your own way to the event hub as your itinerary allows.
Christchurch airport is serviced by Air New Zealand, Jetstar, Qantas Airways, Virgin Australia and a whole host of other international airlines. Air New Zealand is the national airline and flag carrier of New Zealand, offering regular domestic services to Christchurch from Auckland, Wellington, Nelson and Queenstown as well as direct international services from Sydney, Brisbane, Melbourne and many other locations.
| Christchurch Airport | Queenstown Airport |
| --- | --- |
| Drive time to host venue – 90mins | Drive time to host venue – 8hrs |
| Domestic flights by Air New Zealand & Jetstar | Domestic flights by Air New Zealand and Jetstar |
| International flights by Air New Zealand, Cathay Pacific, China Airlines, China Southern Airlines, Emirates, Fiji Airways, Jetstar, Qantas, Virgin Australia | International Flights by Air New Zealand, Jetstar, Qantas Airways, Virgin Australia |
| Christchurch Airport flight information | Queenstown Airport flight information |
Important:
All international competitors must have a current passport, valid for at least three months after the intended date of departure from New Zealand. Most visitors to New Zealand do not require visas unless they intend to work, study or seek employment. Please check with your local travel authority before travelling.

Transfers
International teams will be offered a complimentary transfer and return service from Christchurch Airport to Akarao. The service will operate well in advance of pre-race formalities to allow teams plenty of time to get organised before the start.  More specific detail about transfer options and booking information will be available in Newsletter 1.
Equipment and Logistics
GZ Pure and GZ Prime are 'unsupported' events, meaning the organisers transport all gear and equipment between transition areas. GZ Pure and GZ Prime teams will have to pack away all equipment into standardised bike and gear boxes. Teams can source gear boxes (but not bike boxes) from the organisers when they arrive at Race Registration. GZ Pursuit is a 'supported' event meaning each team requires a support crew that is responsible for the transport of bikes and equipment. GZ Pursuit teams do not require standardised gear and bike boxes. Full information about equipment requirements for boxes and bikes will be released in the Newsletters.
GODZone provides high performace kayaks and inflatable canoes for the event. Teams will be allowed to inspect a double kayak (AR Duo) and inflatable canoe (Hyside) before the event starts to familiarise themselves with features and storage capacity. Teams will not have access to their race boats prior to the event start.
Other Considerations
The official language of the race is English. Teams who need assistance with an interpreter please contact Keren at competitor@godzoneadventure.com
GODZone uses 1:50 000 New Zealand Topographical maps which are available here www.topomap.co.nz
There is a significant magnetic declination in New Zealand and teams must know how to compensate for it
Christchurch is a great city with lots to do. The surrounding Canterbury region has some of New Zealand's most spectacular landscapes and wildlife, not to mention the highest mountain, make the most of your trip!
Currency, Banking and Travellers Cheques
New Zealand's currency is based on Dollars. Most banks are not open Saturday, Sunday or public holidays. Currency exchange facilities are available at the International Airports – hours of trading link with arrival and departure times. Travellers cheques can be changed at banks, bureaux de change, hotels and trading establishments in cities and towns.
Credit Cards
Paying by credit card is widely accepted throughout New Zealand. Visa, Mastercard, Diners Club and American Express cards are commonly used. Please note credit cards with "Smart card" technology, which often have no magnetic strip, are not accepted everywhere in New Zealand.
Medical and Emergency Services
All emergency services can be contacted throughout New Zealand by dialling 111. New Zealand's medical and hospital services are both public and private. Medical services are not free to visitors (except as a result of an accident – click here to find out more about ACC which covers accident claims). It is strongly recommended that visitors purchase health insurance.
Environment & Water
There are no snakes or dangerous wild animals in New Zealand, just lots and lots of pristine wilderness and stunning views. Few people treat their water in New Zealand when out in the back country. However, the decision whether to treat water or not is left with the teams themselves.
Goods and Services Tax or GST
All goods and services (except certain financial transactions) in New Zealand are subject to a government 15% Goods and Services Tax, commonly known as GST. Overseas visitors cannot claim back GST, however some stores sell goods to overseas visitors exclusive of GST provided you show proof of onward travel arrangements (i.e. departure ticket). It is possible to purchase duty free and GST exempt goods upon arrival at all international airports in New Zealand.
Driving
Reciprocal driving rights exist between New Zealand and most other countries. Most rental car companies will ask for an International Driver's Licence. The driver will need to be 21 years of age. Driving in New Zealand is on the left hand side of the road. The majority of roads are one lane wide in each direction and sealed.
Language
English is the common language of New Zealanders with indigenous Maori the second official language. Japanese, Korean, and major European languages are also spoken in some restaurants, hotels, visitor centres and by tour guides. In New Zealand translators are available for most languages.
Safety
New Zealand is one of the safest travel destinations in the world, with a relatively low crime rate, few endemic diseases and a first-class healthcare and accident compensation system. Wellington has also been designated a World Health Organization (WHO) Safe Community – the only capital city of any country to currently be recognised in this way. However, we recommend you observe the same precautions with your personal safety and your possessions as you would in any other country or at home.
Electricity
Electricity is supplied at 230 volts, 50 hertz. Hotels and motels provide 110 volt 20 watt sockets for electric razors only. Most power sockets in New Zealand accept three-pin plugs or similar international adapters.
Tipping
Employees in New Zealand do not depend or expect tips as part of their income but recognition for good service is always appreciated.