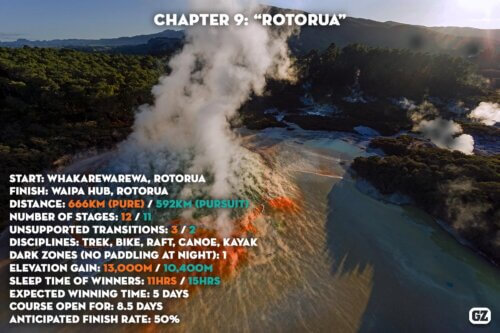 Latest News
STUNNING & EPIC COURSE AHEAD FOR GODZONERS STARTING TODAY
Friday 5th March 2021
News Categories
The GODZone course was revealed to competitors at yesterdays briefing ahead of today's start at the beautiful Redwoods Maori Village in Rotorua.
As the first North Island race, Rotorua and the greater BOP and Taupo volcanic area's have offered up a plethora of incredible locales for racers to experience and Event Directors Warren Bates and Adam Fairmaid have made the most of the opportunity.
"The course is a whopping 666km (the Number of The Beast) with teams navigating, rafting, trekking, mountain biking and kayaking their way around a big loop, to the south of Rotorua, in a broadly clockwise direction. For the first time there is a rogaine section which will allow teams to miss a small number of checkpoints," says Bates."There are 11 transition areas, three of which are remote, where teams are not be permitted to see their support crews and must be self sufficient."
The highlight of the course that maybe no-one was expecting is the the wilderness paddle down the mighty Mohaka River followed by an epic traverse of the Kaweka and Kaimanawa Mountains.
"These two stages that will no doubt live long in the memory – maybe for the incredible views and pain of over 6000m vertical of ascent," says Bates. " Our expected winning time for the PURE event is just under 5 days. That's a big race and a fitting scenario for this Ultimate Edition of GODZone."
Stage 1: Chapter 9 of GODZone kicks off with a mountain bike on the world famous trails of Rotorua's Whakarewarewa Forest. Teams exit the mountain bike park with a fast descent down Eagle Vs Shark before a full traverse of the Western Okataina Trail takes them to TA1 on the shore of Lake Rotoiti.
Stage 2: Teams will trek and pack raft their way across and between Lakes Rotoiti, Rotoehu, Rotoma, Tarawera and Rotomahana; picking off the summit of Maungawhakmana along the way. A first chance to get lost and check out the beautiful lakes of Rotorua.
Stage 3: A long bike that takes teams past towards Lake Aniwaniwa, and then south towards the iconic Moerangi Mountain Bike Trail…one of the best back country rides in New Zealand. Once complete, teams head through the Whirinaki mountain bike trails towards the first of the 'unsupported' transition areas.
Stage 4: Rogaine time at GODZone. This means teams have 11 controls to collect in the challenging navigation area of Whirinaki State Forest. Two controls are mandatory. Of the remaining 9 controls, teams have to collect 7 and can omit the final two. Their choice on which to miss.
Stage 5: Teams depart Transition 4 and head through Kaingaroa Forest logging trails to access the awesome Pamu/Rangitaiki Station and a wee challenge of a river crossing armed with bikes. The logging trails can be confusing at night but teams will be focused on getting to TA5 where they will be welcomed by their support crews after a couple of stages without them.
Stage 6: This is where GODZone starts to get real. Last time you will see your support crew for at least two days and maybe even 4 days. Teams will be hauling packraft equipment through the bush to meet up with the Te Iringa Track and then down for a paddle on the stunning Mohaka River. Rapids to enjoy and a mesmerising backcountry experience. The river is Dark Zoned, so no paddling at night.
Stage 7: A full traverse of the mighty Kaweka and Kaimanawa ranges with views and bush in equal measure. This near 90km trek will treat teams to around 6000m of vertical ascent and a chance to see some of the most spectacular country in the North Island.
Stage 8: A short and enjoyable cycle that connects Waikoko Camp in the bush and the windswept southern shoreline of Lake Taupo. Teams will negotiate the scenic Tongariro River Trail on route, mainly to give support crews time to get ahead of the teams before they arrive at TA8 Waiotaka.
Stage 9: A big paddle that covers the length of New Zealand's largest body of water Lake Taupo. Teams will follow the western shoreline which is known for it's spectacular cliffs, reefs, remote beaches and beautiful swimming spots.
Stage 10: A short connecting leg on bikes that joins Lake Taupo and Lake Ohakuri.
Stage 11: Beautiful little Lake Ohakuri. A final chance to get out your packraft and explore this magical little water way. Only 13km long so it should be a breeze.
Stage 12: Finishing with a mountain bike in the Redwoods in Rotorua. A quick ride through some beautiful backcountry roads leads teams to the southern end of Whakarewarewa Forest. From here teams will pick up a few iconic trails and some great single track back into Waipa Hub and the glory of a GODZone completed.