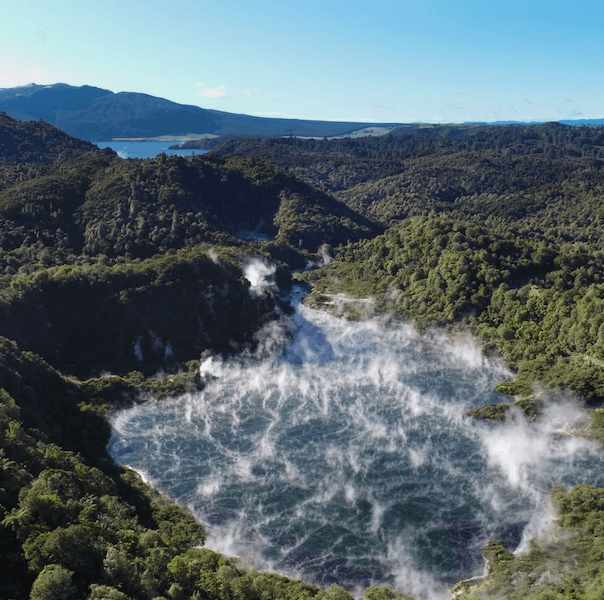 Latest News
ROTORUA OFFERS A GLIMPSE INTO NATIVE NEW ZEALAND LIKE NO OTHER
Monday 21st September 2020
News Categories
New Zealand's extensive geographical isolation from the rest of the world resulted in the evolution of an incredibly rich array of flora and fauna uniquely native to the country.
The range of native trees that have adapted to the microclimates of this Southern location are extensive including the subtropical Kauri, kohe kohe and tree fern forests of the North Island to the West Coasts temperate rainforests and the cooler alpine forests of the Southern Alps.
GODZone's distinctive expedition style allows teams to travel through some of these vast wilderness areas and experience the terrain through a different lens. With Chapter 9 being the very first North Island event, Director Warren Bates says it offers up fresh areas of exploration that will be new to most.
"There has never been a multi-day adventure race of this kind held anywhere in the North Island in adventure racing history. The greater Rotorua and Bay of Plenty area is opening up a myriad of native terrain that from a course perspective is very exciting."
"Having Whakatane adventure racer Neil Jones work alongside myself and GODZone Course Director Adam Fairmaid over two years has provided some incredible knowledge and insight into this amazing geothermal area. The enforced longer planning period, whilst costly, has allowed for intricate and detailed mapping to finesse the Chapter 9 course and create something truly unique to GODZone."
Bates says the nine-day race will be roughly 680km in length and travel through some spectacular locations.
"The nature of the native bush in this area is not the kind any of our South Island teams will have experienced much of before. It is not like the wide-open plains and rounded hills of Canterbury in Chapter 8 where you could see for miles. Here there are extensive native bush areas that will really challenge GODZone teams and put their technical navigation to the test. They are duly warned to fine tune those skills because nav is going to be a critical component that will make the racing even more exciting."
GODZone's expedition format requires teams to navigate and continuously move through the course in a timely fashion to avoid being short coursed along the way at certain transition areas. Bates says map reading, timing and choosing when to travel will all play a significant role in teams finding success in Rotorua.
"My guess is the Chapter 9 course should take the fastest teams just under five days to complete and the rest of the field maybe eight to nine days so it's a good long jaunt with three incredible treks offering real variety."
"Choosing when to travel either during daylight hours or at night is going to play a super important role in each teams navigational decision-making – some of the our fastest teams travel very well at night but actually being able to see the particular bush and terrain your moving through and the lay of this land may become Chapter 9's secret weapon. It's going to be very interesting to follow online to see where teams are heading and who manages to make the quickest route choices."
Rotorua is world famous for its extensive mountain biking trails and for attracting some of the world's best mountain bikers to its annual Crankworx summer Festival. Bates says having access to New Zealand's famed 'dirt gold' and lush forests offers an embarrassment of riches to GODZone.
"By far this will be the very best mountain biking we have ever done at GODZone and competitors should not be fooled into thinking they will know all the tracks and areas we are heading to because I don't expect they will. Support crews are going to be green with envy when they see where their teams are riding but a mountain bike is a good thing to have when your supporting because you sometimes have a few hours to enjoy to yourself."
For more information on GODZone Chapter 9 go to:
For further information contact;
Margo Berryman
GODZone Media Manager
P:+64 21 246 3342
E:margo@qt.co.nz