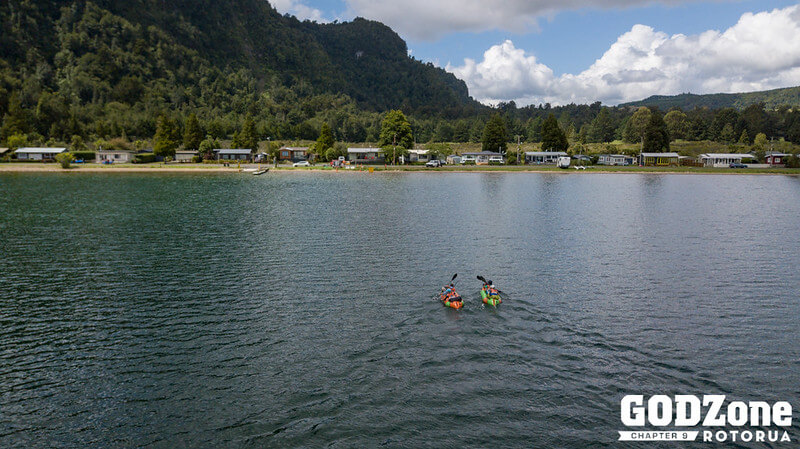 Latest News
Lead teams sorting it out already
Friday 5th March 2021
News Categories
In true New Zealand style, the epic nature of the world's biggest adventure race, GODZone, was heightened by an earthquake that decided to jump on in and shake things up.
At 2.27am this morning a 7.1 magnitude earthquake, one of three in fact, hit 100 kilometres east of
Te Araroa in the North Island.
Even around the Transition Areas and CPs on the GODZone course today, alert warnings on phones could be heard as Civil Defence sent out tsunami evacuation warning messages.
Luckily it all came to nothing, but was a good reminder that we really do live in a country that likes to be in charge sometimes.
Regardless of the ground shaking that happened in the early hours, it was not enough to put a stop to the wonderful start in the Redwoods Forest on the outskirts of Rotorua, for GODZone Chapter 9.
The teams were set off in a total of four waves, starting at 8.50am today, and within 40 minutes the race was fully underway.
Nathan Fa'avae's Avaya, (56) was in the final wave to start, but the foursome soon made their way up the pack as the teams navigated the 56km Stage 1 mountain bike leg towards Tauranganui Bay, going up and over eastern Okataina track.
Race director Adam Fairmaid said Stage 1 delivered some beautiful conditions and teams raced fast and well.
"Avaya already started to make a bit of statement to the leading teams."
Event Director Warren Bates pointed out that even in the early stage, mid pack and tail end teams were making navigational mistakes.
"One team will take the wrong creek, and about three other teams will follow. But that's just the way it is."
After TA1 was Stage 2, the packrafting/portage section, where during the day they navigated Lake Rotoiti, Lake Rotoehu and Lake Rotoma, and the buffering bush sections.
Late this afternoon, tonight and into tomorrow teams began and will continue to make their way on a significantly technical minimum five hour bush trek along Tarawera Track, canoe across Lake Tarawera and Rotomohana, to eventually complete Stage 2 at Rerewhakaaitu Camp.
Mid way through Stage 2, the top four teams had already made a statement for themselves. Richie McCaw's iSport (7) was the first team onto the shores of Lake Rotoma, followed closely by Avaya (56) and Tiki Tour (14) side by side, and Team Motueka (6) not too far behind.
The lead teams are expected at Rerewhakaaitu Camp, TA2, at around 2am or 3am.
Team Motueka would push hard to try and keep with this lead bunch.
At CP9 on the shores of Lake Rotoma, Warren said this next trek towards Lake Tarawera wouldn't be so bad for the lead teams who could do part of it in daylight. The mid pack and back end teams would be venturing through in the dark though, posing a much tougher challenge.
TA2 marks the spot for the six hour compulsory stop, which again, will be tougher for the back end teams who may not get there until midday Saturday, and then have to try and sleep.
"You need to get to that point in the race where you can just sleep anywhere at anytime, but they won't be there yet."
Warren said the great weather has kept everyone smiling so far, and the tail wind on the lakes gave some reprieve.
"The mid pack and back end teams will just keep going solidly and ploughing through. As long as they keep doing this, anything can still happen. It's still very early days."
Adam is looking forward to Sunday when all areas outside of Auckland region return back to Alert Level 1, while Auckland region drops to Alert Level 2.
"This means the other Auckland team might be able to join in, which would be great."
Annabelle Latz
GODZone media crew