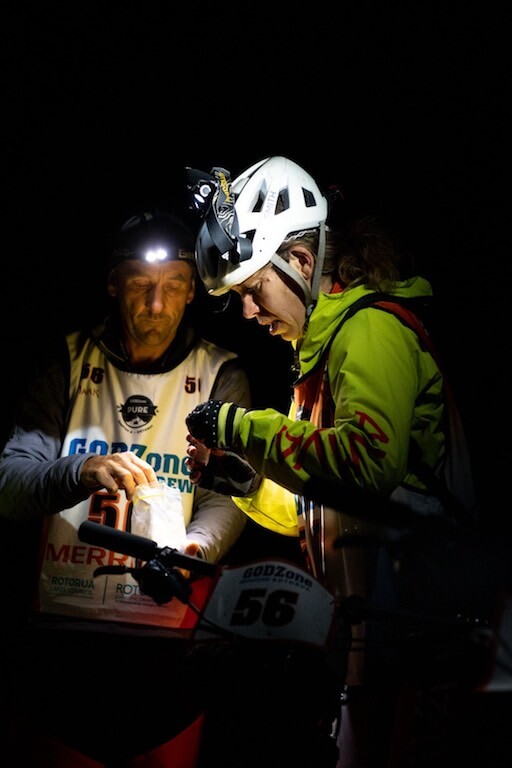 Latest News
KEEPING UP WITH AVAYA ON DAY TWO GODZONE
Saturday 6th March 2021
News Categories
Given New Zealand's iconic expedition-length adventure race put the 'Sold Out' sign up just one day after opening entries way back in September 2019, it's been a long haul since then to get the Chapter 9 operational.
But up and running it is as the teams kick into day two of racing around the greater Rotorua area with all eyes focused forward to Stage 3 of the 666km course – a 134km mountain bike leg into Moerangi – followed by Stage 4 GODZone's first rogaine/trek stage in the Whirinaki State forest.
No surprises, adventure racing world champions Team Avaya (56) are already stamping their mark all over this ninth chapter. Together as a team of four, Nathan Fa'avae, Stu Lynch, Sophie Hart, and Chris Forne have never lost a GODZone yet, and they don't intend for Chapter 9 to be the one that got away.
The team posted the fastest times on the first stage mountain bike yesterday (despite starting in the last wave). They then accelerated their pace on the pack raft/trek sections across Lake Rotoiti, Lake Rotoehu, and Lake Rotoma to overtake Team isport (7) and Team Tiki Tour ( 13).
They made quick work of their paddle across the iconic Lake Tarawera and Rotomohana to complete Stage 2 in style arriving at TA2 Rerewhakaaitu Camp, just after midnight last night, half an hour in front.
TA2 is a mandatory six-hour stop point for all teams (the first time this has been done in GODZone) and is the first marker of how the entire field is faring after the rigors of day one and getting their adventure racing juices flowing.
"There are many gruelling kilometres ahead for all the teams from this point, and at TA2 today, we will see the mid and back end of the field start to show how well they are travelling together and handling the environment," says GODZone Race Director Adam Fair maid. "Many of these teams are planning on just setting a steady pace, hitting all the checkpoints and TA's, and making the cut off's that are coming up."
Media Liaison Annabelle Latz caught up with Team Silky out in the middle of Lake Tarawera this morning as they paddled the stunning waterway.
"The team were enjoying the early morning paddle after a long day and night on the first stages and were focused on moving steadily through the course and staying friends during the whole race. They wanted to know if we thought they would make the first cut-off so you can see it's already starting to play on their minds."
But the big question this morning is, has Team Avaya already done enough to win the race?
In true Nathan Fa'avae style, the team did not waste a second of their precious time advantage they worked hard to achieve yesterday. They left TA2 Rerewhakaaitu Camp just after 6 am this morning – a good 30 minutes before Team Tiki Tour and Team isport, who went 25 minutes after Tiki.
"These guys should do well in the Rogaine section later today – there are 11 controls to collect with some challenging navigation area of Whirinaki State Forest," says Fair maid. "Two controls are mandatory, and of the remaining nine controls, teams have to collect seven and can omit the final two. Chris Forne will enjoy this and be in his element trying to get Avaya through quickly, but it will be a challenging section to navigate at night, which will affect many of the following teams."
" You could still argue it's anyone's game at this stage, but Team Avaya very rarely follow a team through an adventure racing course – their comfort level is at the very front," says Fairmaid. "They will be gunning to get through today with their eyes firmly on Stage 6 tomorrow, the 54km Mohaka River section. They will want to get onto the river as early as possible Sunday afternoon to further increase their advantage before the 'no paddle' night zone kicks in on that leg."