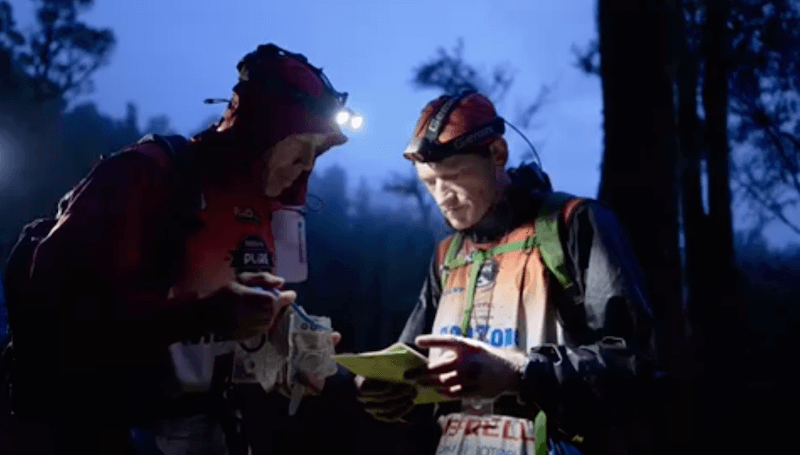 Latest News
HEADS DOWN & BUMS UP ON GODZONE DAY THREE
Sunday 7th March 2021
News Categories
Checking out the GODZone tracking map today, it would easy to wonder what on earth teams have been doing overnight as they are spread through the Whirinaki State Forest in clusters.
It's been a night of bush bashing and head-scratching as teams tackled GODZone's first Rogaine (and trek), which has slowed down the mid-fields pace as they work to find controls in the dark, but not done much to tame the front running teams.
With eleven controls to collect in this stage 4 part of the course and with challenging navigation deep in the bush, the teams have to collect two mandatory controls. Of the remaining nine controls, teams have to collect seven and omit the final two – it is their own choice which to leave.
No surprises leaders team Avaya, who as their captain Nathan Fa'avae said pre-race are fortunate enough to have the world's best navigator Chris Forne, nailed it.
Having entered the Whirinaki bush in daylight yesterday afternoon, Avaya pushed ahead of their tail followers team isport and team Tiki Tour moving very quickly through this 21km stage to increase their lead by a couple of hours in the early hours of this morning.
They arrived at TA5 at Clements Clearing near Taupo before 6 am this morning.
"Avaya has now built themselves a solid lead, and I expect they will just continue to run their own race without pressure," says GODZone race reporter Craig Cook of AR Live Coverage. " They will be wanting to clear the Mohaka River as soon as they can in the next 24 hours and then they can choose where to stop, sleep and rest while the other chasing teams are probably stuck on the side of the river."
Richie McCaw's team isport and Tom Lucas's team Tiki Tour are right behind them, but the gaps are widening.
"Theo Wordsworth of team isport is an excellent navigator, and he nailed a lot of the controls similar to what Chris did, which has kept isport on target," says GZ Event Director Warren Bates. "Tiki Tour are solid performers and hanging in there in third position, and it's good to see Team Ataraxia/Macpac now move up into the fourth overnight."
This chasing pack of top teams are now heading through the Kaingaroa Forest logging trails on stage 5 and gunning to get to TA5 at Clements Clearing to keep up with Avaya.
"I expect the top four should make it on to the Mohaka River before the dark zone kicks in later today, but everyone else might end up camping until daybreak before finally getting on the river," says Bates.
" We may start to see some teams fall apart today as injuries occur or people get overtired and stretched beyond their limits. Day three is always a tough one for those working so hard in the mid and back of the field as they are the ones who ultimately are spending the most time out there on the course – it's going to be interesting to see who makes it through to the early morning cut off at Clements Creek by Monday at 4 pm."
Most of these mid-pack teams will spend the best part of today on the stage 4 Rogaine/trek section.
"It's a much easier job to find and collect these controls during the daytime, but at night it's a very tough call. It's hard to see any key topography features to focus the mind on, and every direction looks the same. There will have been a lot of talk, chatter, and discussion overnight as teams tried to find streams, rivers, rocks, and tracks where some of the controls were placed," said Bates.
TA5 Clements Clearing will be a busy wee spot today and tonight as teams arrive and see their supporters. Given crews were not allowed at TA3 or TA4; it will be a welcome respite for many who have not had much sleep or rest over the last 24 hours. Game on!
GODZone teams are carrying GPS tracking systems and can be following online: https://godzoneadventure.com/
GODZONE CHAPTER 9 KEY INFO
Race Dates: Friday, March 5th – Sunday, March 14th
What: The world's largest expedition adventure race held for the first time in the North Island, New Zealand. Teams will race over an unknown course over eight days across the wider Rotorua /BOP district.
Length of race: GZ PURE teams will experience roughly 365km of mountain biking, 140km of paddling, and 190km of trekking in total.
Course & Maps: GODZone teams use various disciplines such as pack rafting, trekking, mountain biking, mountain trekking to go from point to point through the course. The course is open 24 hours, and competitors will race day and night, stopping at transition areas to change disciplines and pick up equipment.
GPS Tracking: All teams are required to carry a GPS tracking system (yellow brick) at all times while on the course. Media can follow their progress on our live site at https://godzoneadventure.com.
Media Output: Video clips, high-resolution images, and VNR's sent out daily. If you would like to receive news on a specific team, please email margo@qt.co.nz
Facebook: http://www.facebook.com/godzoneadventure
Instagram: https://www.instagram.com/godzonepure
For more information, interview & imagery requests contact:
Margo Berryman
GODZone Media Manager
P: +64 21 246 3342
E: margo@qt.co.nz