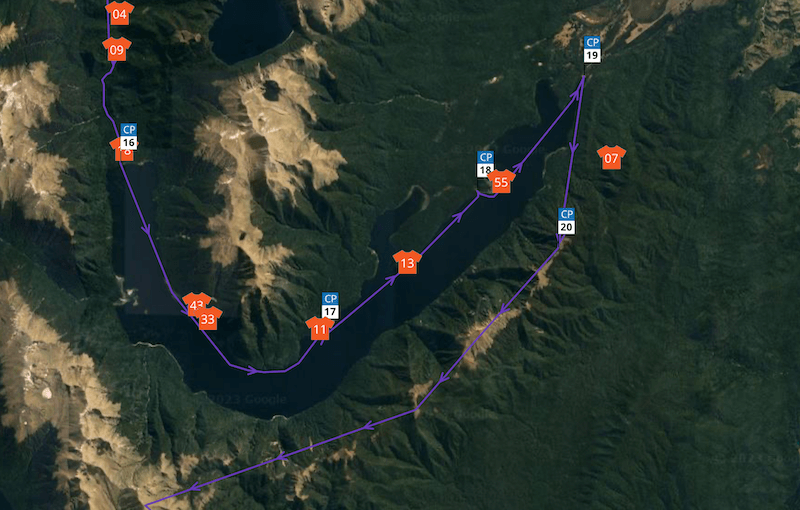 Latest News
GODZONE MIND GAMES
Saturday 25th February 2023
News Categories
Day three and the mental game is kicking in at One New Zealand GODZONE Chapter 11 as lead teams hit stage 6 of the 580km course in thick Fiordland bush and lake country.
Decisions, decisions decisions – do you take the pack-raft with you or leave it behind!
After departing Borland Saddle yesterday the front gaggle of GODZONE teams have been trekking and pack rafting their way through the Green Dean Traverse and towards beautiful Lake Monowai collecting a few checkpoints along the way.
At the Lake Monowai Campsite (CP19) Race Directors Adam Fairmaid and Warren Bates have deliberately given teams the option of continuing with their packrafts or leaving them behind for their support crews to pick up later.
"It will be a judgement call based on perceptions of speed over the ground, terrain, navigational ability and maybe even the time of day that the stage is tackled," says Race Director Warren Bates. "We expect some interesting decisions at this point and leaders Avaya have been the first ones through this morning choosing to leave their pack-rafts at the CP19.They are already trekking to the high point at CP20 and will now carry on on foot."
" Team Thought Sports and Tiki Tour are heading towards CP19 now so it will be interesting to see what they decide to do. The pack- raft decision could be a make or break for these chasing teams who want to stay on Avaya's tail."
He says its not a decision to take lightly and is dependant on how well the teams are faring after 41 hours on the Chapter 11 course.
" Teams might make faster progress with the packrafts but, they then have to carry those packrafts (and other items) later in the stage through the high mountains."
" Today is a massive day in the bush above Monowai and heading towards TA6 at Thicketburn and while the leading teams should continue to make good progress some of the middle teams will weary pretty quickly as the race deepens."