Chapter 8
Host Location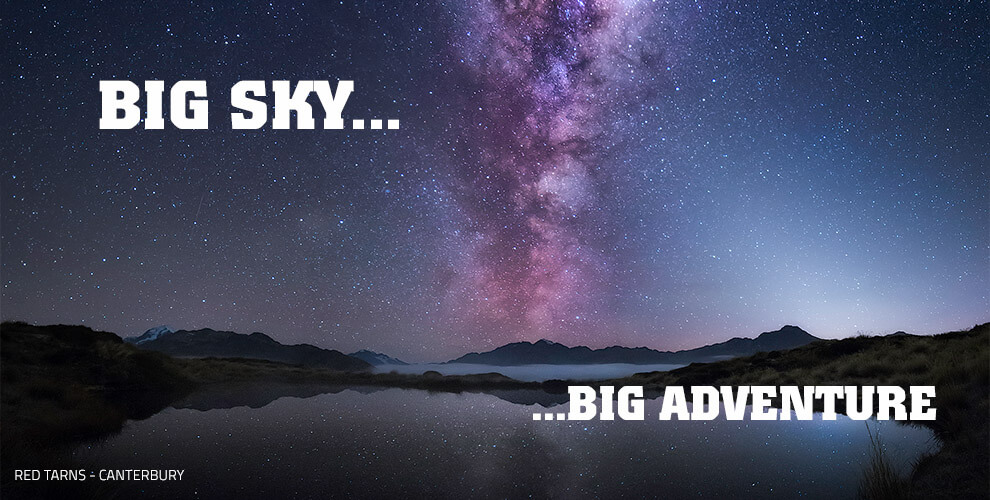 "Not since 2000 has there been an adventure race of this size and nature in the area. Once again GODZone is front footing it, making the most of this opportunity and taking a new generation of racers to amazing new landscapes. What's really exciting is that the regions main city, Christchurch, is really accessible for international teams to fly into and there is a massive multisport population who will want to get amongst it. The landscape is dramatic and will be a big draw card. There are areas up in those mountain valleys that have seldom been seen by anyone and the water catchments are huge. It's unique because there are so many peaks to climb –the Arthurs Pass Mountains are massive. A friend of mine calls them the big – little mountains because they are really technical and can bite you on the arse when you least expect it. There are some really exciting waterways that are excellent for all levels of racers and will suit pack rafting and kayaks. The beauty of Canterbury is that is has everything within short access from the high mountains to the coast and ocean – its quick going. This is a course designers delight and the nooks and crannies of those mountains and valleys are vast – there are too many to describe but all are incredible."
Explore Canterbury – Ocean to the Alps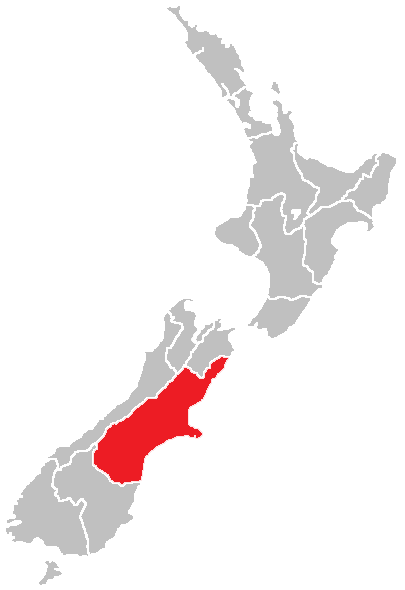 Chapter 8 of GODZone is hosted by Christchurch and the wider Canterbury District with pre and post race activities focused around the beautiful coastal township of Akaroa, which will play host to the event finish line. In true GODZone style, the location of the start line will remain secret until just before the race kicks off. The only hint given at this stage is that the start location will be a long way from Akaroa! The scale and scope of Canterbury gives you a lot to ponder if you want to guess where things will go. From the Pacific Ocean, ancient volcanic peninsula and wondrous marine life, across patchwork plains, home to adrenalin pumping activities, lush vineyards and braided rivers rising to pristine glacial lakes and the majestic Southern Alps presided over by Aoraki / Mount Cook. You're going to find something special extremely special on this stunning, linear course set through Canterbury.
Canterbury is a region on New Zealand's South Island marked by grassy plains, clear lakes and snow-capped mountains. Its largest city, Christchurch, is famed for its art scene and green spaces like the riverside Botanic Gardens. To the west, Aoraki Mount Cook National Park hosts the country's highest mountain as well as 27km-long Tasman Glacier. Canterbury covers a large area with a large variety of smaller regions offering unique environments and adventures. We explore some of the options at our disposal from north to south:
Kaikoura
This is a place like nowhere else in the world – where mountains spectacularly meet the sea, magnificent wildlife is plentiful, and exciting adventures and fascinating history await you. A 3 hour drive north from Christchurch, you'll find Kaikoura – New Zealand's leading eco-tourism destination, with an amazing variety of marine and birdlife along its dramatic rugged coastline.

Hanmer Springs & Hurunui
Adventure, wine and thermal waters – Hurunui's Alpine Pacific Triangle touring route lets you experience all of this and lots in-between. The Alpine Pacific Triangle Touring begins only 45 minutes from Christchurch International Airport in the Waipara Valley, a Trip Advisor 2012 Top 10 South Pacific Wine Destination. Further north you will discover the alpine resort of Hanmer Springs, home to both relaxation and adventure activities.

Find out more – Hanmer Springs & Hurunui
Arthur's Pass & Selwyn
'Sensational' is how we describe what's on offer in this area of 'middle earth' New Zealand. Experience Selwyn's scenery, ski fields, outdoor pursuits, gardens, food, wine and hospitality, and you'll soon agree that this word sums the region up nicely. Selwyn reaches from the majestic Southern Alps and Arthur's Pass, down the braided Rakaia and Waimakariri rivers and over the patchwork Canterbury plains to the vast coastal lake of Lake Ellesmere. Nature lovers, hikers and mountain climbers flock to Arthur's Pass National Park to discover the magnificent flora, fauna and vistas of the Southern Alps. Spend some time in New Zealand's highest township, Arthur's Pass Village – the gateway to discovering this alluring mountainous area on foot. The scenic TranzAlpine train journey also stops here, en-route daily between Christchurch and Greymouth.

Find out more – Arthur's Pass & Selwyn
Mid Canterbury
There's so much to experience in Mid Canterbury – with magnificent scenery, and activities ranging from energetic and exhilarating to relaxing and peaceful, all within an hour's drive of Christchurch International Airport. Set in the centre of the South island and stretching from the Southern Alps to the sea with the mighty Mount Hutt as a backdrop, you'll be spoilt for choice on how to spend your time. Amongst the snow-capped mountains, rugged high country, glacial lakes and rushing rivers, you'll discover plenty of traditional rural hospitality.

Find out more – Mid Canterbury
Aoraki / Mount Cook Mackenzie
Canterbury's Aoraki / Mount Cook Mackenzie region is a magical part of the world. With New Zealand's highest peak Aoraki / Mount Cook, golden grasslands, and turquoise lakes. You'll be captivated by the stunning scenery and exhilarated by the range of outdoor adventures. There are many events happening throughout the Mackenzie region – from horse racing, to mountain races, golf tournaments and agricultural shows. The Mackenzie Highland Show, held every Easter Monday in Fairlie is the largest one day Agricultural and Pastoral Show in Australasia.

Find out more – Aoraki / Mount Cook Mackenzie
South Canterbury
A great snapshot of the best of New Zealand – with beautiful outdoor environments, rich art, history and heritage, plenty of outdoor adventures, fabulous fare, and great Kiwi hospitality. South Canterbury's geography is made up of sweeping plains, rolling hills, meandering rivers, native forest and unspoiled coastline. There are many picture-postcard views to be had here, and lots of ways you can get out and discover these gorgeous environments. Walking and mountain bike trails zigzag their way through the area, ranging from gentle family-friendly tracks to testing hikes over several days, or two-wheeled exhilaration.

Find out more –  South Canterbury
Host Town – Akaroa, Christchurch
A journey around this beautiful peninsula will reward you with picturesque vistas at every turn, a thriving artisan culture and a marine environment teaming with wildlife. Come and immerse yourself in the alluring French character of Akaroa township – a seaside retreat just 90 minutes from Christchurch.
Akaroa simply oozes charm! Nods to its history as a French settlement are everywhere, with pretty French-named streets, lined with historic cottages cloaked in roses. While away the hours browsing boutique shops and craft galleries, and stop for a pick-me-up of fine local food and wine at a café or restaurant overlooking the shimmering waters of Akaroa Harbour. Relaxation doesn't get much better than this!
Akaroa has all the makings for the perfect romantic getaway. Take your pick of a swath of luxurious accommodation options, enjoy a long lunch or lingering dinner at a cosy café or restaurant, and stroll hand in hand through the town's enchanting streets and shops. Spend some quality time together appreciating the area's abundant creativity, perhaps with a walk through the secluded Giant's House mosaic and sculpture garden.
You'll find an uplifting community spirit here, with a fascinating mix of artists, creative spirits, gardeners, historians and artisan producers living alongside families – all passionate about this delightful region they call home.
So make sure you get a local's take on what to see and do here. And factor in a few days to enjoy this charming peninsula getaway – it's much more than a day trip destination. Check out Akaroa's webcam.
Driving Routes, Walks and History
Banks Peninsula is packed with natural beauty. For breathtaking views over the peninsula's bays and beaches, take a drive along the Summit Road – the crater rim of the old volcano that formed Akaroa Harbour. Or lace up your walking shoes and explore on foot. There's a vast network of walking trails here, offering amazing views, rich displays of native bush and birdlife, and blissful peace and quiet.
Spend some time exploring the peninsula's outer bays. You'll find some stunning secluded beaches ripe for a picnic and a swim. There's also local history to uncover at the Okains Bay Māori and Colonial Museum.
Marine Wildlife
The sparkling waters and dramatic coastline of Banks Peninsula are home to a host of marine life including the world's smallest and rarest dolphin – Hector's dolphin. Swim with these playful mammals for an unforgettable wildlife encounter. A trip out on the water – by boat or sea kayak – could also reward you with sights of New Zealand fur seals, white-flippered penguins, little blue penguins, and scores of birdlife overhead. And on the shoreline lies the mainland's largest white-flippered penguin colony – the only penguin species endemic to Canterbury.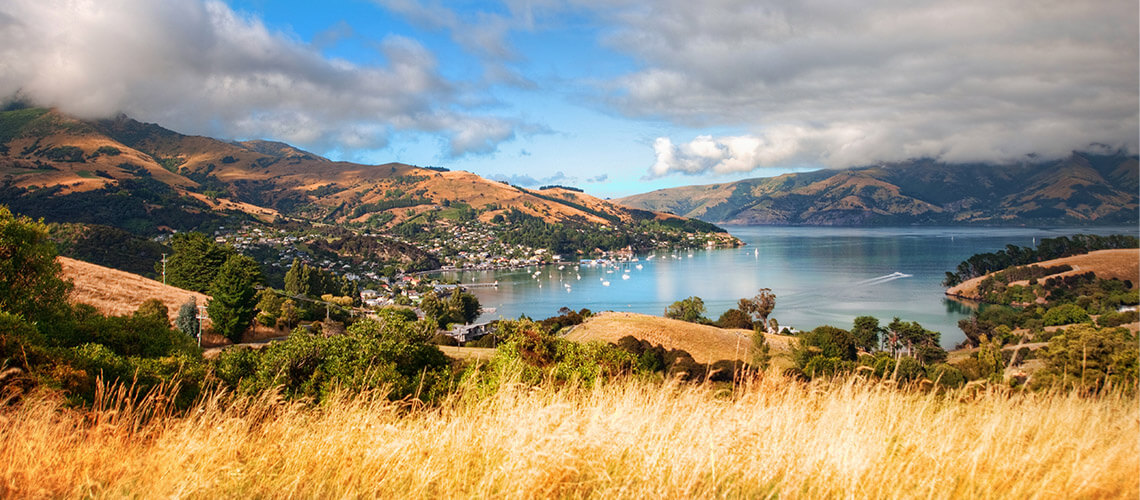 Climate
All aspects of the climate of Canterbury are dominated by the influence of the Southern Alps on the prevailing westerly airflows. The mountains give Canterbury a climate of greater extremes than most other parts of New Zealand. Of the country's main cities, Christchurch has the least rainfall and the greatest range of temperatures. The mountains lie at an angle to the prevailing westerly air flow. These westerlies lose their moisture when they rise to cross the alps. On the eastern ranges and the plains, rainfall is much less. Rainfall on the plains comes from the south and east, when depressions off the east coast push southerly flows over Canterbury. Christchurch has an average annual rainfall of 648 millimetres (roughly half that of Auckland and Wellington).
Five main climate zones can be distinguished:
The plains, with prevailing winds from the northeast and south-west, low rainfall, and a relatively large annual temperature range by New Zealand standards.
The eastern foothills and southern Kaikouras, with cooler and wetter weather, and a high frequency of north-westerlies.
The high country near the main divide, with prevailing north-west winds, abundant precipitation, winter snow and some glaciers particularly towards the south.
Banks Peninsula and the coastal strip north of Amberley, with relatively mild winters, and rather high annual rainfall with a winter maximum.
The inland basins and some sheltered valleys, where rainfall is low with a summer maximum, and diurnal and annual temperature ranges are large.
Although north-westerlies are not frequent on the plains they are an important consideration for the agricultural sector, due to the exceptional evaporation that occurs on north-westerly days. Irrigation is necessary in most parts of the plains during the growing season due to the relatively low rainfall received there.
The rather cold winter weather in Canterbury is interrupted at times by unseasonably warm days during foehn episodes. Daily maximum temperatures in summer often exceed 30°C throughout Canterbury during such foehn episodes, and on rare occasions temperatures in excess of 40°C have been recorded.
What Canterbury Offers
A BIG ADVENTURE PLAYGROUND
The scale and scope of Canterbury offers a big adventure opportunity.