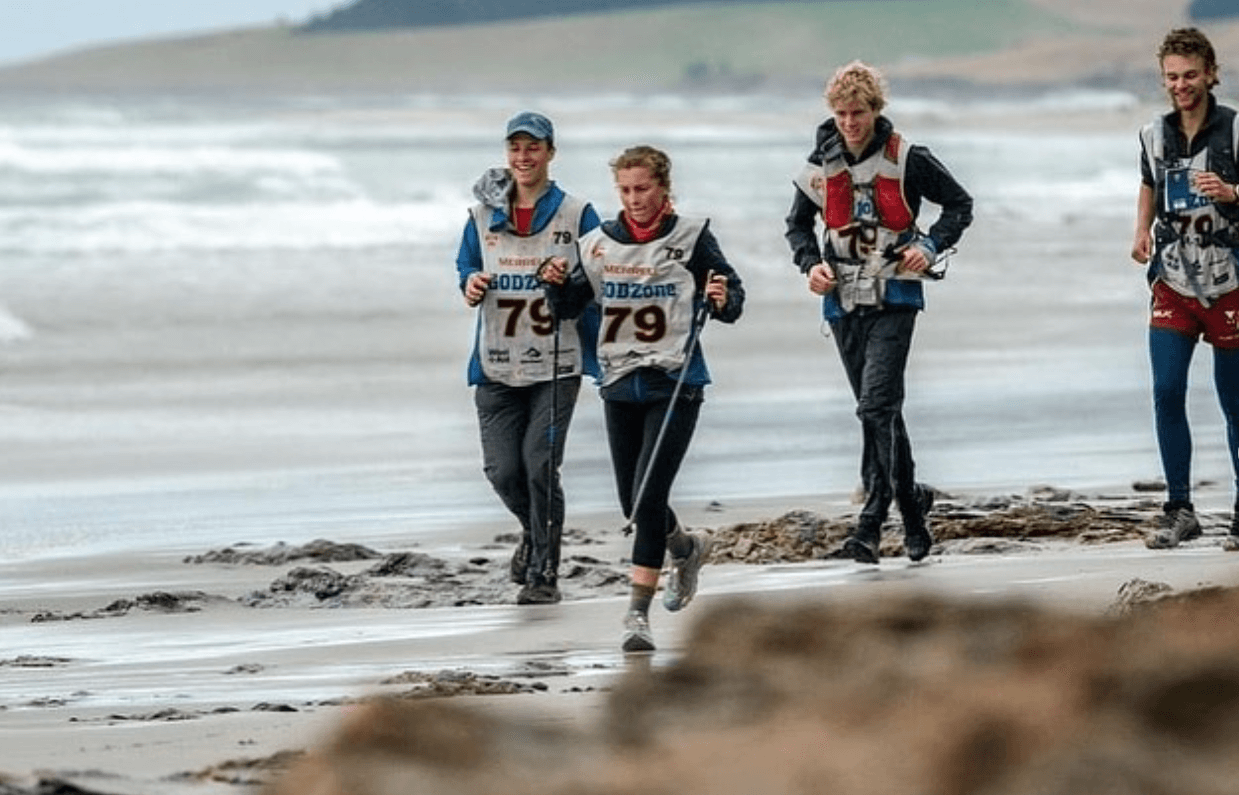 Latest News
YOUNG ADVENTURERS 'ONE'S TO WATCH AT GODZONE
Friday 17th February 2023
News Categories
Last weekend Molly Spark was running over the Southern Alps in the two-day Coast to Coast, and next weekend she will be racing through Fiordland at the grueling ONE NEW ZEALAND GODZONE Expedition Racing World Championships.
"Coast to Coast was a lot of fun because I got to do it with Bondi Rescue's Andrew 'Reidy" Reid, who gave quite a lot of good banter over Goats Pass and during the kayak where he made me steer," says Molly. "We weren't going for a win but ended up first in the tandem mixed category, which was a bonus."
The nineteen-year-old is upbeat about heading to GODZONE Chapter 11 next week with fellow 'Fear Youth' adventure racing teammates Dean Stewart (19), Fynn Mitchell (17) and Josiah Murphy (19).
"We are super excited because the boys are all from Fiordland, so it's home ground for them," she says. "We love the ruggedness of the region; the more gnarly and steeper the terrain, the better."
"The guys should know some of the places we are going; however, the course is over 500km long so we could end up anywhere. We have pretty good team dynamics and relate to each other well because we're all of a similar age, so it's great racing together."
GODZONE Race Director Warren Bates picks the 'Fear Youth' squad as a strong contender for the eight-day race that kicks off in Te Anau on Thursday, 23rd February.
"They are in racing contention, competing in their hometown this year," Bates says. "Molly is from Christchurch, but the boys know their way around Fiordland, having grown up there, so they should go solidly. As a young team with plenty of strength, I don't expect the navigation to freak them out, but it's whether they can get their race strategy right. They will need to be mindful of that."
Fear Youth raced at GODZONE for the first time in 2022 and is the youngest team ever competing in the event's eleven-chapter history. Molly Spark says she was pleasantly surprised at how it all unfolded.
"My Dad has done GODZONE like five times. My family would follow him to each race, and I thought it looked like torture, but it was better than expected. Sleep deprivation and not knowing when you will finish an eight-day race is tough as there is no hot water or a bed to sleep in."
"I am sure every race is different, but you learn by pushing through that hard, challenging stuff, which brings you back for more. Achieving it was amazing and completing GODZONE last year was the best experience of my life so far."
The university student who doesn't have a coach says she is highly motivated to get out and train while juggling studies.
"I am very determined and don't skip training days. Generally, I train in all three disciplines and often double up going from the mountain bike to the run to get used to running on tired legs or getting out of the kayak and onto the bike when you're wobbly."
"For GODZONE, it's good to carry a heavy pack and practice lifting loads on longer missions every few weeks. I have done a lot of research on how to train for endurance events, and know my body well, so I understand when I am over or under training."
For more information, interview & imagery requests, contact:
Margo Berryman
Expedition Racing World Championships
One New Zealand GODZONE Media Manager
P: +64 21 246 3342
E: margo@qt.co.nz