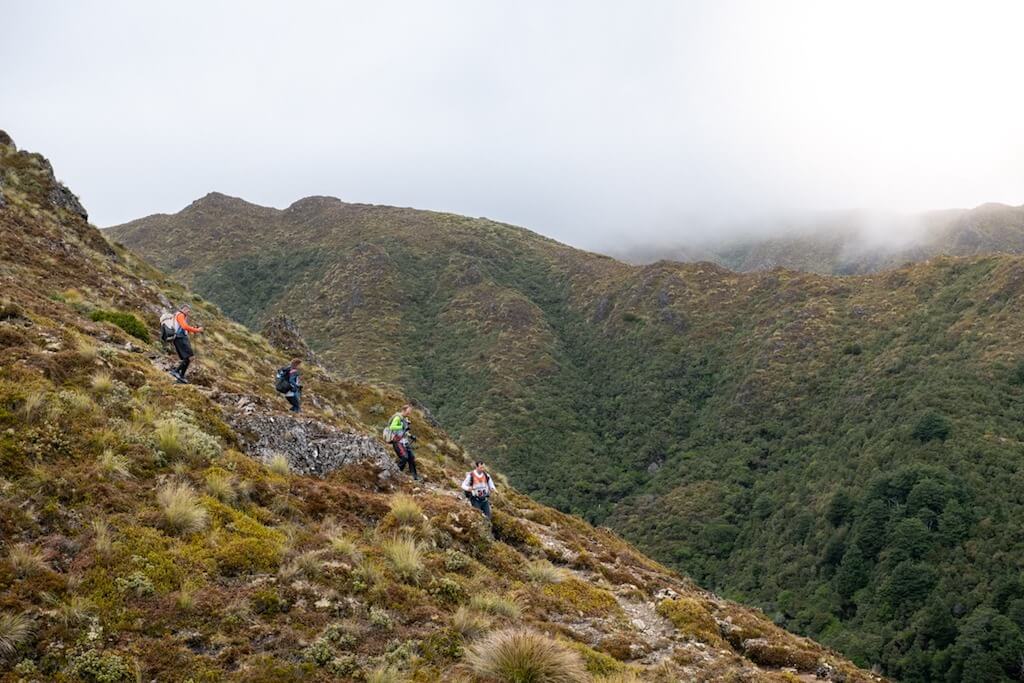 Latest News
TURNING TOWARDS HOME
Tuesday 9th March 2021
News Categories
Four days and two hours in, and they are running -downhill – towards TA7 Waikoko Valley Camp!
That's the word from the GODZone media team, who are out hunting down leading team Avaya – who in the past 24 hours have hauled their packs over 88km of pure native New Zealand bush across the massive Kaimanawa ranges – and are now starting to turn their direction towards home.
" They have just climbed 1600 meters to the very top of the Umukarikari range and are now on an excellent track that leads down to TA7, so their pace is picking up," says GZ Course advisor Ian Edmond. "The area they have been trekking through for the past 48 hours is a very, very steep country, totally untracked heavy native bush that is unmarked, so good navigation required with their progress slowed down."
" We can see on the GPS trackers that they clocked around 4 hours sleep last night at CP27, which sets them up nicely for a quick descent this morning down to the Tongariro River Trail for the stage 8 mountain bike towards Lake Taupo. The chasing teams' Tiki Tour and isport had definitely made up time on Avaya overnight last night, but it would be unlikely any of them could catch up now," says Edmond.
The adventure racing world champions have stomped all over the Chapter 9 course that has taken them through the greater Rotorua and Taupo region. GODZone Event Director Warren Bates says that's just how they roll.
"Nathan, Chris, Sophie, and Stu won't give anything away to anybody racing behind them. They will still be running and moving as fast as they can to the very end of this course – they have done this all before."
Bates says the sheer scale of where teams are trekking is enormous.
" It's just massive, massive country in there with the teams climbing up to 1700 meters in places. When you start that trek and get up to the first high point at Whetu and look towards where you are heading 70kms away, it's mind-blowing. This is an amazing experience for all the teams who will be digging very deep to keep their minds and bodies on the job and in the game. No one is going to come out of this trek without some good stories to tell – it will be the most memorable part of the race for most."
The leading teams will push hard today through this trek stage with thoughts of the race's final steps in their sights. A short and snappy stage 8 mountain bike to Lake Taupo follows the trek to the first kayak section of the race – a 53km paddle the length of Lake Taupo to Kinloch.
Then it's a matter of joining the dots on their bikes to head to the Redwoods finish-line in the Rotorua.
This is still several days away for some teams, but for Avaya – it's looking like a reality in the next 24 hours.