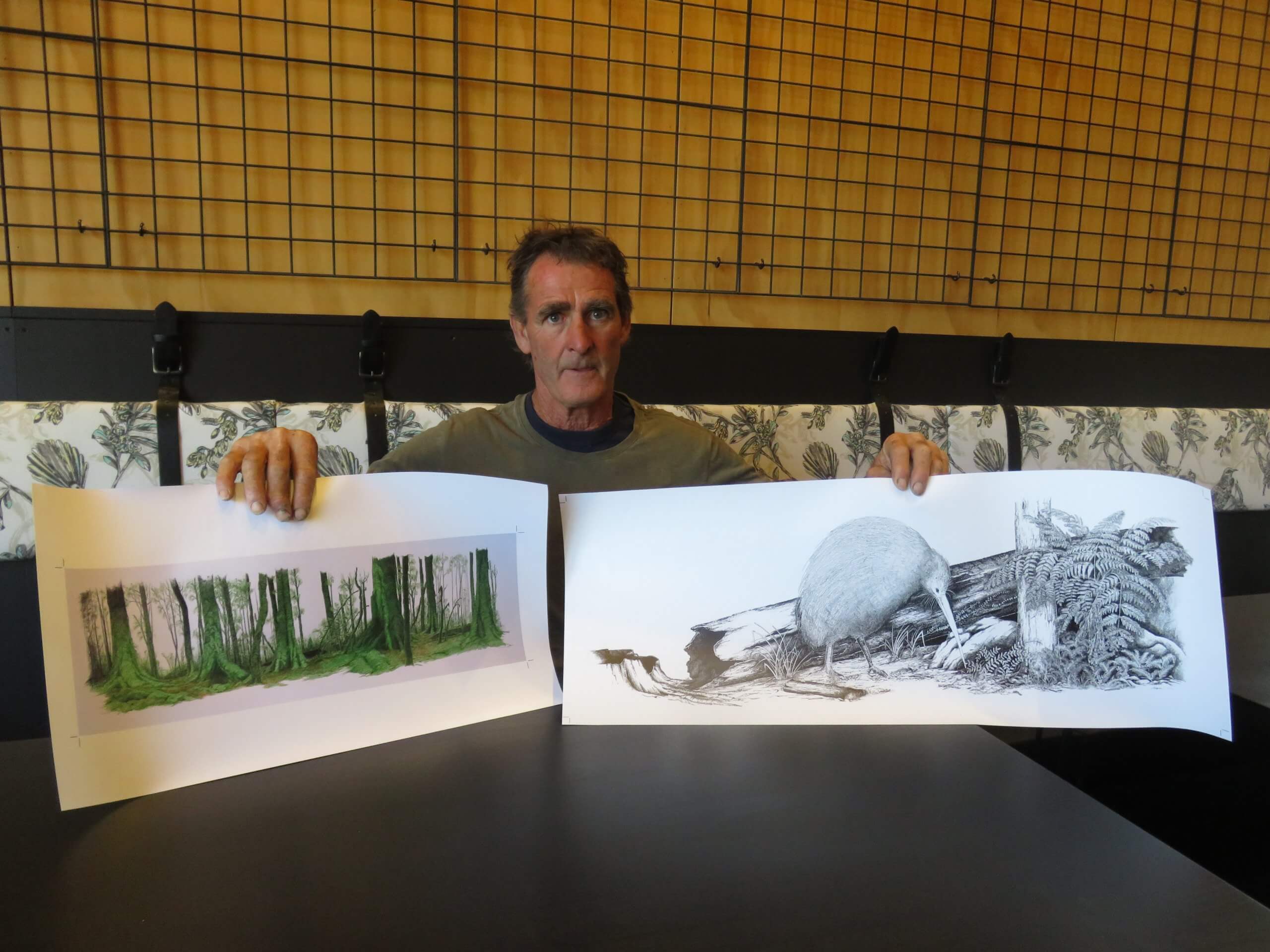 Latest News
Meet Martin, the GODZone trophy guy
Sunday 14th March 2021
News Categories
He loves New Zealand so much, so bugger it, he'll draw it.
Meet Martin Rogers, you'll probably be more familiar with his work than you realise, as he's the man you can thank for the stunning logs of wood we call the GODZone trophies.
It all started way back in 2012, just before Chapter 1 Milford was about to kick off.
"It was two weeks before the race was to start, and I got a call from Adam Fairmaid (Race Director) who said 'Marty you have a bit of skill, can you make us a trophy?'" recalls Marty, coffee in hand, chilling at Trail Kitchen at The Hub at Waipa, on the final day of GODZone Chapter 9 Rotorua.
Marty told Adam that time was pretty tight and his workload high, (Marty is a plumber) but he'd see what he could do.
Stretching his head, he conjured a plan instantly.
"I had this wee print of some New Zealand bush which I drew in  Te Anau in 2004, my first ever colour print, and I had this log of maitai. I thought, maybe I can cut into it and put the picture inside."
He knew it would suit the southern vibe, which was more than a stone's throw from where he sat at his Waihi Beach home in the Bay of Plenty.
Four days later the trophy arrived in the South Island.
"I had said 'no rush, we just need it for next week.' He wouldn't even let me pay for the courier," says Adam, with a grin.
Being a huge Graeme Hammond artist fan and inspired by Rei Hamon, bright colours and paint have never really interested Marty, but drawing in dots is what he really enjoys.
His work speaks the relationship he has with the land, and the value he puts on precision.
"Not too many people get into the technical, but with my work I can do one small mistake and have to start again."
Each GODZone trophy is its own piece of craft.
Marty has been drawing since high school, his time spent with the craft varying over the  years as he's juggled work, and family. His identical twin brother is also an artist.
Rehab from a neck injury from rugby back in the day provided him more time to spend drawing, as did  his hip replacement in  2005, when he seriously  started to draw in colour.
"The hardest part is mixing the colours. My wife gave me a colour chart, sometimes I'll have two or three attempts before I get it right, and that can be painful."
Marty is originally from Murupara, which featured in GODZone Chapter 9 course. He's a keen hunter, but admits he often takes his camera out rather than his rifle these days.
"I don't draw much at the weekends, and not so much in the summer. But in the winter I'll go upstairs in the evenings, and if the picture is going well I'll go up there a lot. If it's not going well I might not go up there for a while."
Sometimes his drawings just 'draw themselves.'
Marty recently drew his first kiwi, after his daughter who lives in Australia requested one for her one year old son William, who Marty has not yet met because of COVID-19.
He practiced the kiwi and the fern over and over until he had it exactly right, before he started the piece.
"I've called the kiwi William."
@martinrogersart
By Annabelle Latz
GODZone media