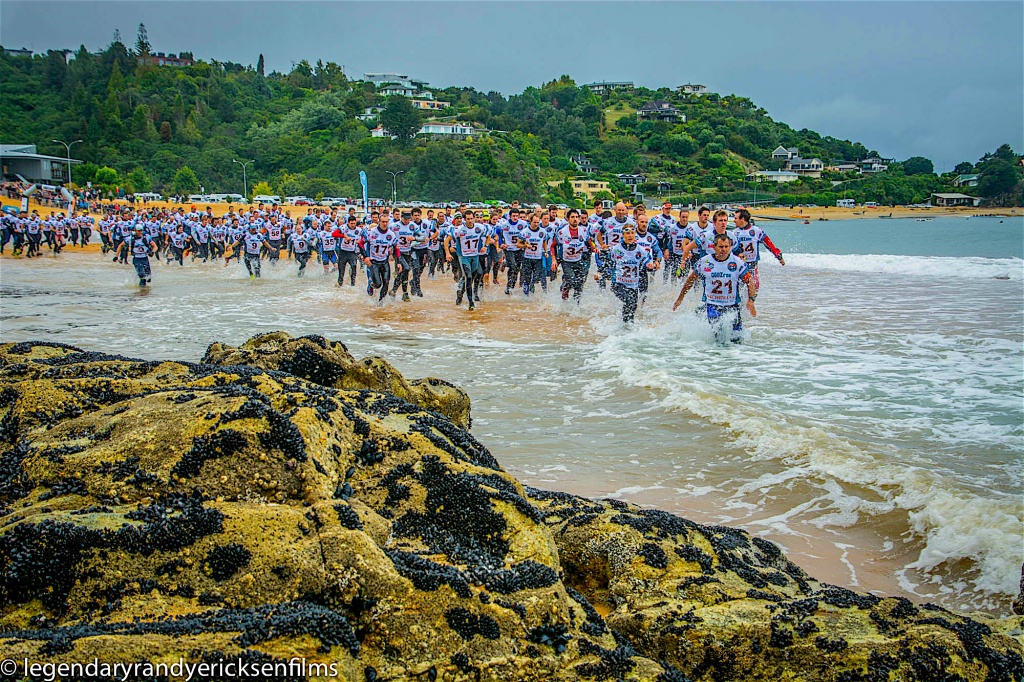 Latest News
Water action for first day of GODZone
Saturday 2nd April 2016
News Categories
WATER ACTION FOR FIRST DAY OF GODZONE
The action has been on the water today for the start of GODZone Chapter 5 that saw hundreds of locals witness competitors heading off on the 530km expedition adventure. Teams sprinted off the start line on Kaiteriteri beach on midday swimming and coasteering around the rugged coastline to Stephens Bay and the first kayak stage to Rabbit Island.
2.4 metre waves provided some exciting thrills and spills for many teams who ended up in the surf resulting in a cracked kayak for the RebelFood team.
Nelson's team Swordfox led by Brent Edwards and Wanaka's team Torpedo 7 led by Richard Anderson established early firm leads being first to arrive after a four-hour paddle.
"Both these teams set record transition times with Swordfox assembling their bikes in less than seven minutes. That's a super fast turn around onto the second stage orienteering and mountain biking.
"The orienteering entailed two point to point courses set up by the local Nelson Orienteering club and teams could choose to do split up and do them in two pairs or one stick together. It's a good mental challenge and helps to separate them out from the rest of the field and start to establish individual racing patterns," says Bates.
Massive crowds of spectators at Rabbit Island clapping and cheered the teams on and the Cure Kids team with Richie McCaw attracted plenty of attention.
"There was a good bit of banter as they went through the transition with Sarah asking Richie if he felt like going out on a wee bike ride now. They are in really good spirits," says Bates.
The team has so far raised $292 000 for Cure Kids.
Leading teams are now biking through the Silvan Forest Mountain Bike Park located at the back of Richmond Township before riding into the Richmond Mountain range towards the Wairoa Gorge and the first trekking stage of the event over the Red Hills.
Current Top Five Teams
1. Team Swordfox
2. Team Torpedo 7
3. Yealands Family Wines
4. Team NeuroPhysics
5. Bivouac Inov 8