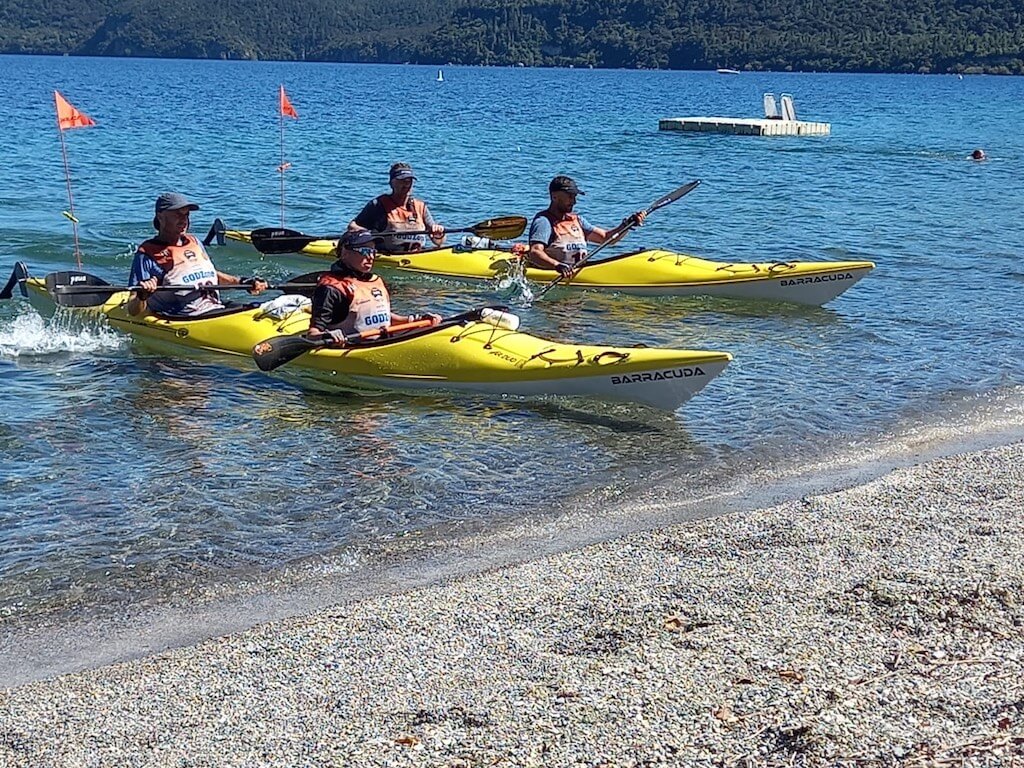 Latest News
THAT HOMEWARD VIBE
Friday 12th March 2021
News Categories
The weather has turned, the sun is out and the last team – Unfinished Addiction (37) – at the back of the field, is slowly moving forward!
Day eight of GODZone has a super positive vibe wherever you are on course.
The finish line is humming, the music is playing and the Cargo brews and hot pies are going down a treat! Teams that finished a few days ago are enjoying long, lazy lunches at hotspots around Rotorua while Lake Taupo is serene… providing the back third of the field a cracker day to paddle towards Kinloch and the final stretch home.
With just 13 teams left to arrive at the Redwoods in Rotorua its nearly game over for the GODZone Ultimate Edition – Chapter 9.
GODZone Event Director Warren Bates says its been an extensive and at times arduous exercise to deliver the event.
" Without the support of the Rotorua Lakes District Council and all our race partners it just simply would not have been possible to pull this race together. For a long time now we have wanted to bring GODZone to the North Island of New Zealand and it feels very satisfying to have achieved that goal."
" We have great support from our long time race partners Merrell NZ, Backcountry Cuisine, Barracuda Kayaks and Giant and this year OSM joined us as well," says Bates," Local Rotorua businesses Rotorua Novotel Lakeside Hotel and RAD Car Rental have delivered incredible support making sure our media team have been very well looked after in the region."
With the official Chapter 9 wrap up and prize giving set down for tomorrow (Saturday) afternoon at the Waipu Hub in the Redwoods, Bates says he and Race Director Adam Bates are conscious of the many, many people it takes to pull off an event as large as GODZone.
" Clearly our GODZone teams are a very important part of this expedition but without the management and operations crew and our wonderful volunteers there would be no such event. Each time we put on GODZone we are in awe of what these people come and create together. It's very humbling."