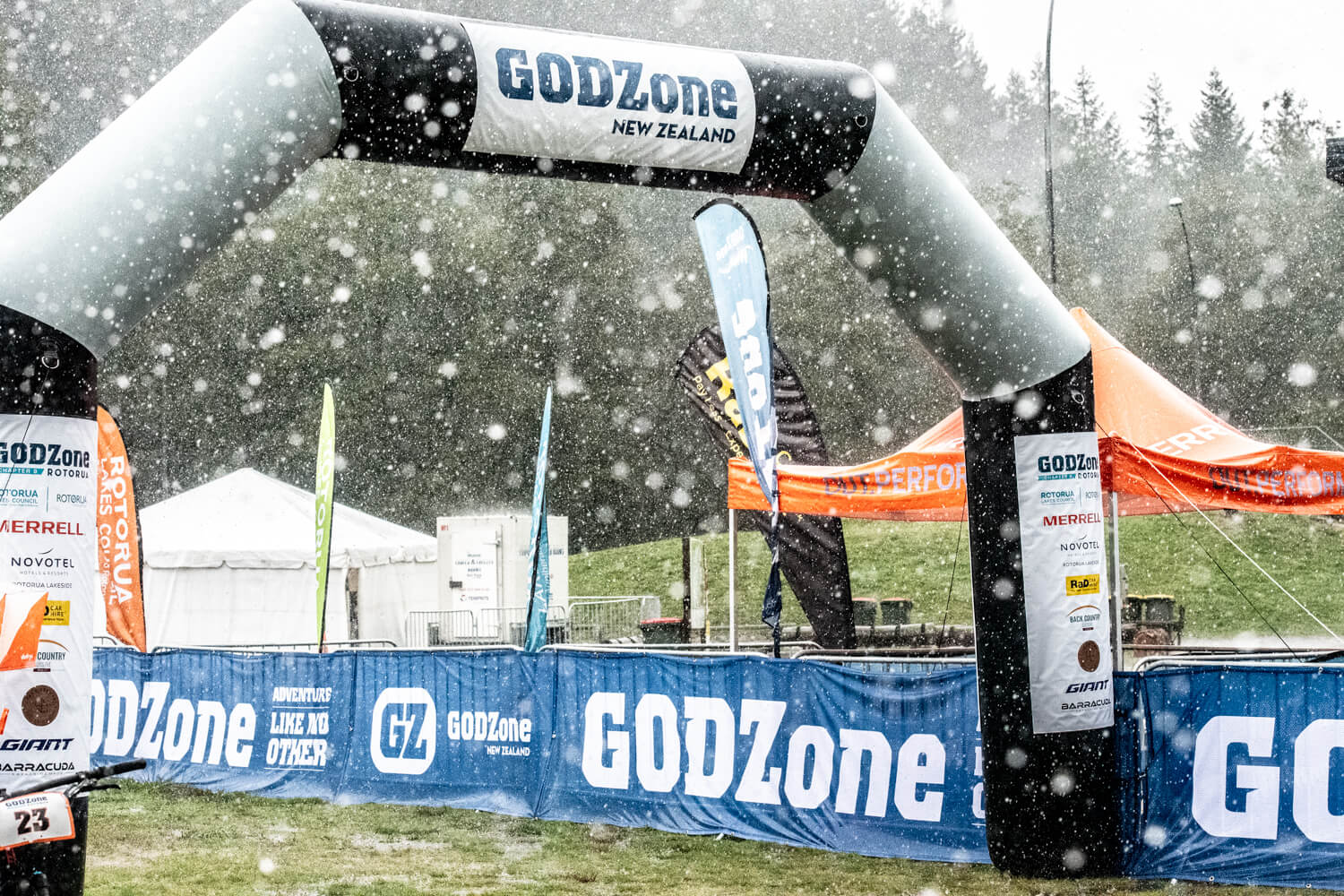 Latest News
Pushing through the puddles
Friday 12th March 2021
News Categories
Where's Warren?
Buying gumboots. Well, that's fair.
It was late afternoon of Day 7, down on the finish line at Waipa Hub.
It was wet, very wet. Puddles everywhere.
The rain falls hard and fast in Rotorua, all of a sudden. And then it's gone. And then it comes back again.
The rain in Rotorua is not like adventure racing.
Adventure racing is a slow burn, quite gradual, with a soft morph from one aspect or activity to another.
So Event Director Warren Bates wanted to talk about the weather when he was back from buying his gumboots.
He bought some for loud speaker guy Adrian too, who welcomes in every team at the finish line with his booming voice and the music, which has attracted differing levels of appeal.
When Adrian is not cheering you in, he is sometimes sleeping on a camp stretcher in the caravan where the pie warmer is.
"Well the weather is supposed to clear tomorrow," said Warren, not looking too convincing as he peaked out from under the marquee, having just picked up the bean bag from a giant puddle.
The flow of teams is not quite the steady flow matched to the rain, but the numbers are getting up there.
At time of publication of this article, there are 14 Pure teams in, and the first two Pursuit teams.
Many of these teams have been wet, or shall we say sodden.
But every team has had at least two if not three of its members smiling. Usually there has been four smiles.
Warren commends the teams highly for their fantastic attitude, despite the somewhat near horrific elements some would have endured.
Those out there in the elements still, well Warren said overall they're doing well, and just trucking on, despite how tough it is.
"Some are 24 hours off finishing, one or two are still on the Kaimanawas. They've just got to keep moving forward, and look after each other."
Support crews will have a big job keeping these teams warm and comfortable at transitions, and maintaining the balance between letting the team rest, but still encouraging them to move again.
"They may just want to curl up inside a van and sleep for eight hours, but this won't help them get to the finish line."
Of course, there is help out there for those teams who need it, but Warren says that finish line feeling is one like no other, and if he was a support crew member, he'd be doing his absolute best to encourage those broken souls to keep on keeping on.
"There's nothing like going around that corner in The Redwoods on your bike and catching a glimpse of the flags and banners. It's at that moment you forget all the pain, and you say to yourself 'We did it, we bloody did it.'"
Annabelle Latz
GODZone media