Resources
Newsletter 3 – Chapter 11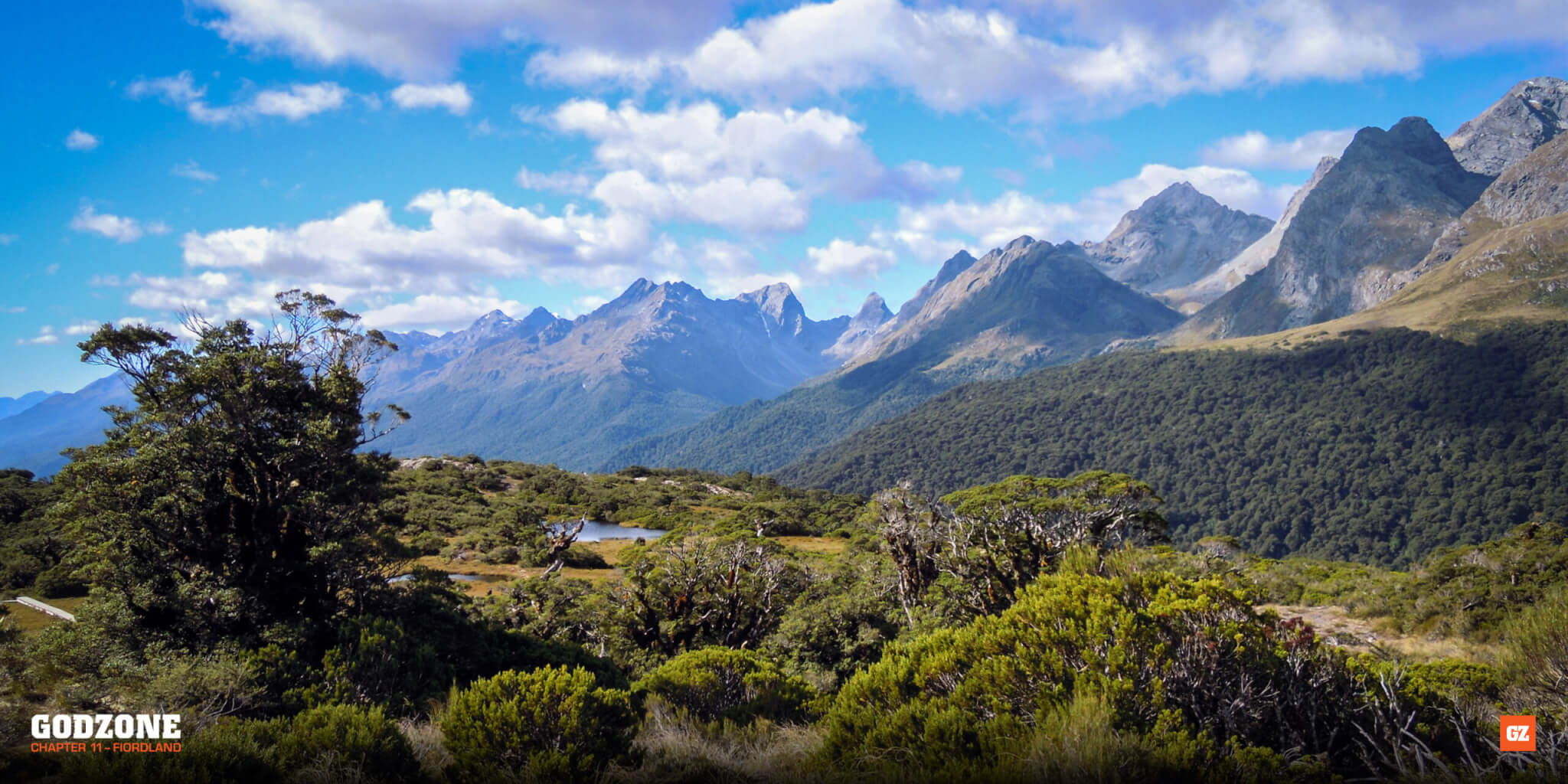 A massive thanks to you all for supporting Chapter 11, another special edition of the World's biggest expedition adventure race. This Newsletter will provide you with key bits of information about the event. If you or your team mates, friends, family or supporters wish to keep up to date with developments then please remember to visit or like our Facebook page. If this Newsletter raises any questions or, if you are uncertain about any aspect of the event, please get in touch with us via the Contact Us page. We look forward to seeing you in one month for an Adventure Like No Other!
State of Play
Well, the wait is almost over. It is time to get excited about the epic adventure that lays ahead. Just one month to go until we send you off on a wee tramp, bike and paddle across a few bumps and picturesque puddles where you will get the chance to see some spectacular landscapes and showcase some of the best parts of New Zealand to the huge number of avid dot-watchers.
Given how well prepared you all are, this will be a relatively brief Newsletter with just a couple of very important updates which are outlined below in more detail. There are some timing changes to the schedule (and related accommodation requirements) that have been forced upon us by a government agency. It is frustrating but it doesn't really impact the race at all. It simply means the race will start a little earlier than planned and finish a little sooner too. No time for faffing on Thursday evening and a bit more time pressure to get organised, once you have glanced at the maps and had a little gulp.
Over the last few years we have seen some significant changes to the format of pre and post race activities, driven by COVID, mask wearing, social distancing and contact tracing/sign-in requirements. These changes have been a challenge at times but it has given us and teams the opportunity to explore different approaches to event management and how we streamline the before and after of One New Zealand | GODZONE. Not all the changes forced on us by COVID have been bad. In fact, some of the outcomes have been positive and we will look to retain some of these protocols going forward. COVID has largely retreated into the background of the public's consciousness, but it is still there, lurking around in all communities in New Zealand and overseas. GODZONE is a very tough race to complete when you are operating at peak personal performance. Trying to complete the race when you are struck down with the bug could be pretty horrid. Everyone should try and do their bit to reduce the chance of spreading ANY infections or viruses prior to the race. Be healthy and if you are under the weather, give everyone a wide berth and do your best to relax and recover.
With this in mind, the Welcome, Safety and Course Briefings will be done on a virtual basis and provided online. These will be available for viewing early on Thursday morning prior to Event Registration.  Teams should come to Registration in the usual way. Here you will be moved around well spaced 'stations' to complete formalities. There will be a safety check of certain key items. The items to be brought to Registration are outlined below. We do NOT need to see all your Mandatory Equipment, just the items below, and presume teams are sensible enough to ensure that all their gear meets the standards required and that they are carrying the correct items.
Like the last couple of Chapters of GODZONE, there will NOT be an official, mass, prize giving. Teams will be welcome to depart as soon as they have reached the finish line and had a good weep. This is partly down to the desire to reduce as much congregating as possible and also because teams have, on the whole, welcomed the opportunity to expedite the end of the race if they finish early. One of the downsides of a course that stays open for 8 or more days is that the leading teams might have to wait 4 days for the course to close and for celebrations to begin. This is a long time for someone who has a business to run, job to return to, family at home waiting, etc. Ergo, we have opted to retain this format and encourage all teams to have a bloody good cheer on the finish line (and then bugger off home or to a local hotel for some very well earned rest and reflection). It goes without saying that teams and their supporters are more than welcome to come back to the finish to welcome in friends and rivals who are racing in other teams.

Course Update
Not too much to add here of note but some general observations are provided. Firstly, it has been extremely dry down South for quite some time. Water levels are getting lower. It goes without saying that we have no idea what the next month will bring but it could be that rivers are running extremely low, slow and potentially bumpy. Or, we could could be due the mother of all deluges just before the race which, could throw some challenges at everyone. Stage timings provided as a rough indication on the Logistics Planner could be much slower on a paddling section if there is little to no flow. Just keep in mind that this is not an exact science and hope that we get a decent/sensible amount of rain over the coming weeks. We can't see much in the long term forecast as yet. The dry/hot weather has also increased the fire risk significantly. Teams are reminded that lighting fires around the course is prohibited. If you are in a backcountry hut and you are cold, sure, light a fire and get warm (remembering to do all the right things in terms of restocking firewood for the next person who might need it). Anywhere else on the course lighting a fire is a strict no-no. In some forestry areas, it could be catastrophic. Do not even think about lighting a fire in an area of dry forest. Be sensible.
There are two remote Transition Areas on the course where teams will not have access to their support crews. Both of these remote TA's are straight after each other so that you will complete three stages in a row without support crews. Two of the stages are not particularly long. Duffle bags will be transported by event staff to the remote locations so that teams can access the equipment that they need. All other TA's will be open to support crews. A couple of the TA's are extremely small and there are strict time limits on how long a team can be there and when a support crew can arrive and depart. This is to stop a mass build up of vehicles and campsites. Three transitions are particularly well suited to a longer stay and we are working with One New Zealand to improve internet/phone connectivity in the two most important ones so that support crews can get better information feeds in what are relatively remote areas. All details on the best stop locations and any related rules and regulations will be laid out in the Logistics Planner (released one week before race start) and in the Team Handbook (released with map handout).
General Housekeeping
If you have been to a previous Chapter of GODZONE you will know that we like to things to run smoothly. Check out the general housekeeping items below for your attention. We encourage all teams (and in particular, team captains and/or administrators) to 'action' any items that require some form of input, in a timely fashion – it will help ensure that you have the best possible event experience.
Race Start (IMPORTANT UPDATE ALERT)
Due to factors outside our control, the race start has been brought forward a day. The race starts for both PURE and PURSUIT teams on THURSDAY the 23rd of February in the afternoon. So, a day earlier than initially set out in the schedule. Both races start together and at the same time. We are delighted to announce that the start location will be in Te Anau itself! The location of the finish line will not be released for a while yet. We can categorically state that it isn't in Te Anau. Starting on Thursday means that race timings have been pulled forward in tandem; the details of which can be seen on the Schedule page. The main things to note are that: Registration, gear check and safety briefing will still take place on early Thursday morning; The first teams are expected to finish on Tuesday (not Wednesday); The course will officially close on Friday (not Saturday).
Please take note of the following:
No accommodation is required for teams on Thursday evening, though support crews may wish to return to accommodation in Te Anau once teams are sent on their way
A Thursday afternoon start will put a lot of pressure on everyone to be efficient on Thursday morning so that all formalities can be completed, maps handed out and best plans laid
Teams should aim to arrive promptly for the start. Do not be late, we always start exactly on time
Our advice would be to arrive no more than one hour before the start time which, should give you ample time to get organised, collect your Yellow Brick tracking device and give your support crew a regal wave of the hand, before you disappear on your adventure
For the finish, as already eluded to, there will not be the traditional closing ceremony and mass prize giving. With this in mind, we propose that teams are relatively fluid about their accommodation options for the end of the race (since you have no idea where the race will end up). See how you are tracking, get your support crew to hoover you up at the end, big high-fives all round, and then make a plan. Can you be bothered to drive or do you fancy hanging around for a while, etc…
Team List
There is still quite a bit if missing team and personal information missing from the Team List. Visit the Team List and use your unique log in to update your details. If you have lost your unique log in, please get in touch and we can set you up with a new one.
Team Finder
A reminder to all teams administrators and/or captains that you can Sign Up your team to the Team Finder page, if you are looking to fill a last minute position in your team. You can also look for replacements at the Team Finder Search page. Injuries, substitutions and last minute replacements are commonplace in expedition events and this feature may help you link up with that person you've been waiting for all your life (or, at least since you realised that your navigator was utterly out of their depth).
Support Crew Contact Details
All teams are required to register their Support Crew details via the following link prior to Thursday 23 February. https://godzoneadventure.com/resources/support-crew-details/. This page/link can be found under the Resources tab on the GODZONE website.
Support Crew Finder
The facility to find support crew and register an interest in becoming a support crew member has now been added to the website. This can be found (and filtered as required) on the Team & Support Crew Finder tab of the main website. If you know someone keen to assist a team, please get them to sign up. You may be thinking of racing GODZONE one day or know someone who wants to; what better way to learn than sneaking yourself in to a supporting role of a competent team of experienced racers?
Medical Forms Reminder
All competitors are required to fill out an online medical form prior to the event start. We need this information well in advance of that date so that safety crews and race medics have a chance to review the information and are aware of any specific details pertaining to individual athletes. All information collected remains confidential. Please follow the link to the online form and complete it as soon as you can https://godzoneadventure.com/medical-form
PLB Number Reminder
All teams should know that a PLB or emergency beacon is a mandatory requirement for this Chapter of GODZONE. It will be carried in addition to the YB GPS Tracker that the Organisers provide. The use of either of these devices will be outlined at the pre-race briefing and gear check. All teams must provide their Team Personal Locator Beacon Hex ID or UIN number (15 characters – numbers and letters) on their Team Information page.
Duffle Bags
Please remember that all teams must bring 2x (yes, two) 100 litre duffle bags for use during the race. They will not be used extensively but are still required to transport equipment into two remote transition areas. They will be returned to support crews later in the race.
Security
With the organisation no longer managing the majority of the competitor gear movements and equipment storage during the event, please remember it is the responsibility of your support crew to manage the safety and security of your equipment at all times. We recommend that you have suitable locking options for any equipment stowed on the outside of your vehicles. Do not park and leave your vehicle in vulnerable locations with no persons present. No options for storage exists at Race HQ and the finish line is quite a long way from Te Anau anyway. Take everything with you.
Maps
A reminder that map sets will be based on the 1:50 000 topographic series that is common to New Zealand. Please note that the two waterproof sets provided by the organisers are the ONLY maps permitted on the course with the teams. Teams caught with additional sets of maps or photocopies will be heavily penalised and may be disqualified. Support crews are welcome to annotate their own paper maps or use other maps of their own and pass on information to their team if they feel it adds any value in Transition Areas only. So, to be clear, teams must only use the two sets of waterproof maps whilst on the course. When teams are in transition, they are welcome to access other maps or transpose information on to their course maps. The viewing of electronic devices, online maps or satellite imagery by teams in a Transition Area is prohibited under Race Rules IIIB (6.) which specifically outlaws the use of such devices and information. Please be extremely careful about use of devices when your team arrives into a Transition Area.
All teams will be provided with three (yes, 3) sets of topographical maps for the entire course. This will comprise:
Two sets of waterproof maps available for use on the course. Waterproof maps remove a lot of the hassle and stress related to race preparation and diminishes the worry about how you will keep your maps dry during water sections
One additional paper set for Support Crew. The additional 3rd paper set provided will allow your support crew to plan, prep and support you throughout the race
Map Reading Tips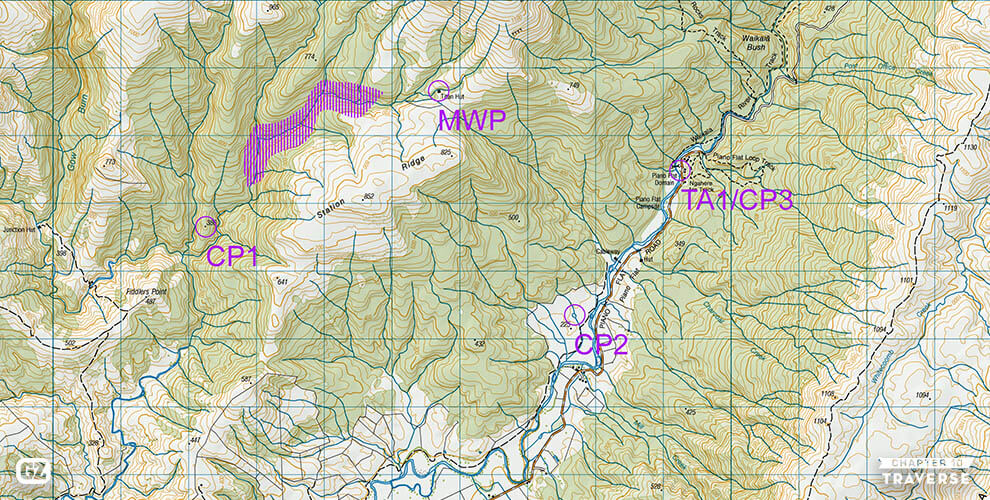 Ok, we're not going to give you any map reading tips as we know you are all far too good for that and absolutely none of you are going to get lost. None of you…OK? (We don't like people getting lost. It upsets us.) However, it might be good to give those of you who are new to GODZONE a very basic introduction to how the most important map symbols work. In the above example you will see:
A basic checkpoint: CP1. There will be a standard orienteering flag located at this location on the ground. A specific description of the location will be provided on the relevant map and in the Team Handbook. Teams will be required to 'punch' their Race Passport in the appropriate boxes that match the CP number. Remember, you have two Race Passports, one to be handed in completed at the finish and one as a backup should you lose the other.
Mandatory Way Point or "MWP": These are 'virtual' checkpoints that DO NOT have an orienteering flag or control. No punch exists and there is no box to be punched in your Race Passport. These are merely virtual checkpoints that we want you to pass nearby (within a hundred meters) so that you do not stray into private land, other prohibited or sensitive land, dangerous terrain and are usually sited where a basic checkpoint (see above) would offer little navigation value or that the checkpoint would be at high risk of being removed by some unwitting idiot/selfish bastard.
Another basic checkpoint: CP2. Please note that all CP's are mandatory on the course (see below for exception) and that CP's must be visited in order. Ie, CP1 must be collected before CP2, and so on.
Please note the hatched area. This is an area which is deemed 'Out of Bounds'. Travel in an Out of Bounds area will usually lead to disqualification and some form of prolonged torture, reflecting the severity of the offence. Do not travel in these areas. They are in place for many reasons and include, inter alia: No permission exists from landowners; private land; hunting block with active hunters; biodiversity threat; stock and cattle (ie, bulls and deer) that might get angry if you hop over the fence; dangerous terrain; etc. Please please please do your best to avoid travel in these areas otherwise the future of the event could be threatened.
Transition Area: TA1/CP3. This is where you will usually meet your support crew and have a minor meltdown (or transition-inspired sense of euphoria). Please remember that you will have to punch your Race Passport as you enter the Transition Area and again when you depart. This is to let TA staff know exactly when you have arrived and when you have left. Teams are not permitted to 'double punch' their Race Passport on arrival or departure. No support crews bringing Race Passports up to be punched, thank you. Once you know all of this, the rest of it is easy….
Event Sponsors & Partners
We'd just like to take this opportunity to once again acknowledge the amazing support we get from our event partners and sponsors. The fact is that without them, GODZONE would not happen. Entry fees alone do not come close to covering the cost of putting on an event and media showcase of this magnitude. We are lucky to have developed some wonderful long term relationships with many of our partners and we hope that you can recognise their support, down the line, in whatever way you can….whether that be through product choices, purchases or sharing their brands on your social media outlets. It helps us to keep the adventure racing ball rolling ever faster and further.
A special mention to One New Zealand who have stepped up to become the title sponsor of GODZONE. It is truly amazing to be able to partner up with such a well known and respected New Zealand company. This will be a great opportunity for some technical collaborations and they will be pushing out all the exciting stories on to their own media channels.
We welcome our Premier Partners: Great South, Rab and Bayleys. All are making a major contribution to the running of Chapter 11 and we really appreciate their involvement.
Major partners are Merrell, Back Country Cuisine, Barracuda Kayaks, Garmin, Yakima and Wool Aid, many of whom have been with GODZONE over many years. Thank you for your ongoing commitment to adventure and expedition racing in New Zealand.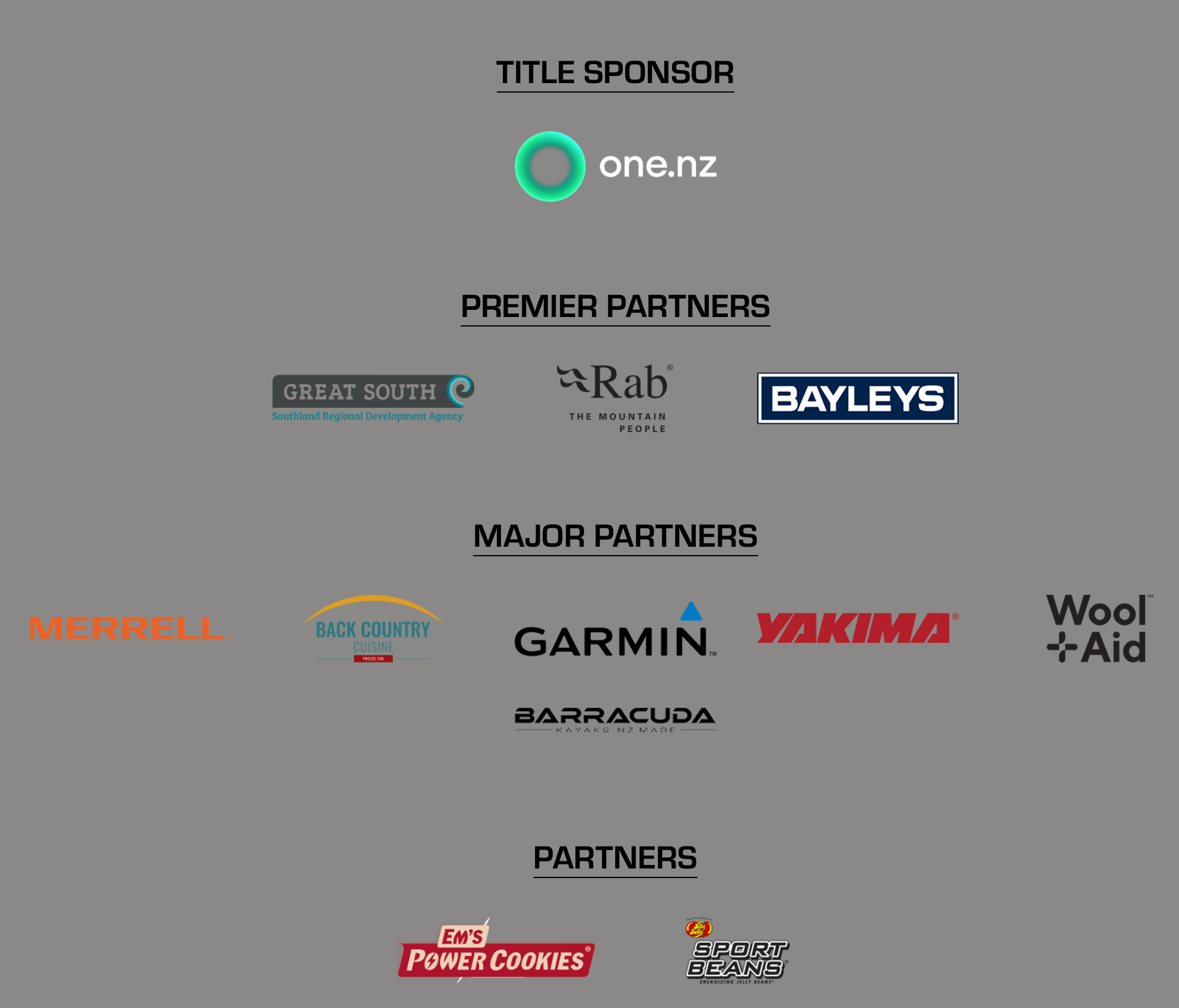 Rab – PREMIER PARTNER & OFFICIAL APPAREL SUPPLIER
" The countdown to GODZONE is on! If you are still gathering your apparel, jump onto www.outfittersstore.nz as we have you covered with all things Rab. From Gore-Tex jackets, toasty mid-layers, waterproof pants and insulated jackets through to lightweight sleeping bags and other essential gear items. "

Gore-Tex Jackets:
The Rab Kangri Jacket is a classic mountain hiking Gore-Tex 3-layer 70D shell jacket which is robust and reliable, making it perfect for keeping you dry in the Fiordland weather.
Rab Meridian Jacket is a waterproof shell option made from recycled 40D Gore-Tex Paclite Plus Technology, offering the ultimate weather protection.
The Rab Firewall Jacket is lightweight, versatile 30D Pertex® Shield 3-layer hard shell jacket with a slight stretch.
Waterproof Pants:
Rab Downpour Eco Pants are soft, lightweight and user-friendly, they are ideal for use in changeable conditions and are made from recycled Pertex® Revolve fabric making these pants fully recyclable at the end of their life.
Rab Downpour Plus 2.0 Pants are for the technical savvy mountain hiker/runner featuring full leg side openings and articulated knees. The Pertex® Shield 2.5 layer provides waterproof protection.
Tees:
Rab Forge LS Tee's are made from polyester/merino blend with wicking, warmth and temperature regulations, rapid drying and anti-odour performance for multi day use.
Base layers:
Forge Leggings are a lightweight polyester/merino pant which will keep you warm on the cooler days.
Mid-layers:
The Rab Flux Pants are a slim fit layer providing quick drying warmth.
Rab Filament Pull-on is a high wicking technical fitting fleece designed for active mountain use.
Rab Alpha Flash Jacket is highly breathable, packable active insulation layer using Polartec® Alpha™ technology and panelled with Thermic™ for active mid-layer use.
Rab Nexus Pull-on is a mid-layer pull-on using stretch fleece for superb mobility and comfort.
Outerwear:
Rab Xenair Alpine Light Jacket is an insulated hoody excelling in stop start activities and provides the ultimate balance in warmth and breathability
Rab Xenon 2.0 Jacket is a versatile and packable, synthetic insulated hooded jacket which is fast-drying, breathable and ideal for keeping you warm in damp conditions.
Rab Cirrus Flex 2.0 Hoody is an insulated jacket with Thermic stretch fleece panels and 100% recycled PrimaLoft® Silver Insulation Luxe™. Ideal when temperatures drop but energy output is high and freedom of movement is essential.
Sleeping Bags:
Rab Mythic Sleeping Bags offer the best weight to warmth ratio in the Rab range, so these bags are ideal for adventure racing when weight and being warm are key to success.
Each Rab Mythic Ultra bag is filled with 900FP European Goose Down with Nikwax Fluorocarbon-free Hydrophobic Finish and is made with 7D Nylon Ripstop Outer Fabric and uses our unique TILT reflective technology.
Rab Mythic Ultra 180 – Rab sleep limit 0C
Rab Mythic Ultra 360 – Rab sleep limit -8C
Mythic bags use ultra-high lofting goose down and super light construction, giving you an exceptional warmth or weight ratio. Each is filled with 900FP European Goose Down with Nikwax Fluorocarbon-free Hydrophobic Finish and is made with 7D Atmos™Nylon Ripstop Outer Fabric.
Rab Mythic 200 – Rab sleep rating 1C
Rab Mythic 400 – Rab sleep limit -6C
Accessories:
Ark Emergency Bivi – compulsory gear – reusable reflective surviva; shelter in emergency situations.
Lowe Alpine Dry Sacks – durable, waterproof nylon stuff sacks with a rolltop closure. Ideal for organising and protecting your gear in wet conditions. Also available in an ultralight version.
Rab has a variety of gloves to choose from and featuring details such as stretch fabric, sticky palms, wind resistance, and options which can be used a standalone or liner gloves, so we have your and your hands covered!
Rab Power Stretch Contact Grip Glove – Polartec® stretch fabric glove with a sticky palm for all round use in variable conditions and as a liner glove.
Phantom Contact Grip Glove – lightweight glove option featuring wind resistant Polartec® fabric.
Rab Forge 160 or the Flux Liner Gloves – light merino glove options for cold weather layering or stand-alone use.
Post Race Celebrations
As already eluded to above, there will not be an official awards ceremony in the aftermath of GODZONE. Prizes will be awarded on a rolling basis as teams come through the finish line. We will, of course, be supplying a beer and much needed pie to all finishers. Teams are welcome to return and cheer on other teams as they arrive. At the same time, we know you have busy lives and may wish to head off soon after finishing. Your call, it's a nice finish location with some amenities…might as well make the most of the opportunity to kick your feet up and start your recovery in style.
Event Schedule
Date
Time
Event
Thursday (16th February)
6:00pm
Logistics Planner Released online. A broad course outline giving distances, elevations and disciplines during event sent to team captains/administrators via email. This will include some general comments about logistics, Duffle Bag use, what amenities are available in different transitions and some do's and don'ts whilst at GODZONE Chapter 11
Thursday (23rd February)
6:00am
OFFICIAL WELCOME & SAFETY BRIEFING (mandatory for all competitors and at least one support crew). We will operate 'virtually', via the internet, at 6am to ensure that all competitors and support crew receive full information disclosure and safety protocols without the need for all to be in attendance in one dedicated space. Information on how to view the Virtual Briefing will be released to team captains/administrators in conjunction with the Logistics Planner above
Thursday (23rd February)
8:00am – 11:00am
TEAM REGISTRATION AND GEAR CHECK (mandatory for all competitors). Teams will be welcome to go through Race Registration and Gear Checks. It is also Mandatory for the Two Support Crew to check in at the same time as the team.
Thursday (23rd February)
8:00am – 11:00am
Registration & Gear Check will include the following:

Sign race Event Waivers
Support Crew contact details confirmed (if still outstanding)
Lodge Yellowbrick deposit with credit card
Gear check (see important notes below)
Inflatable Canoe collection (GZ Pursuit teams only)
Media formalities/photos
Safety checks (see important notes below)

AR Duo Kayaks will be available at Race Registration for team inspection

Thursday (23rd February)
11:30am – 12:00pm
Team Captains only may collect their Team's Race Maps, Passports & Team Handbook
Thursday (23rd February)
11:30am – 1:00pm
Question and Answer Session. Team captains are welcome to send any route/course specific questions to the Race Director after Maps and Handbooks have been distributed and digested by teams. Teams should submit email questions only to info@godzoneadventure.com between the hours of 11:30pm and 1pm. Answers to (sensible) questions will be distributed to ALL team captains at 1:30pm via a group email
Thursday (23rd February)
3:00pm
Race Starts – PURE & PURSUIT. Further instructions will be provided with Race Maps, Passports and Team Handbook

All teams will be served on a first come first served basis at each station at Registration & Gear Check. All teams will receive a broad course outline giving distances, disciplines and some other details approximately one week before the start of the race. This outline planner will give key bits of information which will allow teams & support crews to expedite their planning prior to arrival at the event. The outline planner will omit some key stage details so teams will still be left guessing about the route until final map and handbook give out.
Important Notes
Our water safety crew may conduct tests on Thursday during Gear & Safety Check: confirmation of correct safety equipment, minimum river rescue skills and knowledge of emergency procedures. Please ensure you know what you are doing otherwise you will not be able to start the race.

Mandatory Gear & Gear Checks
Teams should allow for 4 glowsticks per person. A few spares would not be a bad idea, just in case one or two are faulty to water sections become longer than expected
A reminder that each competitor is required to bring 2 (yes, two) red, rear bike lights. One must be attached to the bike and one must be attached to either the rear of the competitors helmet or backpack. These must be on at ALL times if riding on any roads, even in the day time. You will be asked to demonstrate functioning rear lights before leaving certain Transition Areas. No working rear lights, no departure. Make sure you have some back ups with your support crew
GZ Pursuit teams only will paddle our blue inflatable canoes. We recommend that teams bring 2 good pumps to inflate these canoes. It us up to GZ Pursuit teams to decide whether they carry both pumps on the course or just one. Support crews are permitted to assist in inflating and deflating canoes in any designated Transition Area
There are multiple pump options available; it all depends how big, fast and durable you want. A typical pump type can be found by following this link. The all important valve that you will attach your pump nozzle to is a Leafield C7 type. Follow this link to see the perfect nozzle to fit the blue inflatables
GZ Pursuit support crews will be expected to transport the blue inflatable canoes at times on the course so please ensure you have space for these in your support vehicle
Following on from this theme, support crews for GZ Pure teams are also permitted to inflate and deflate packrafts within a designated Transition Area. Obviously no support is permitted anywhere else on the course
We are well aware that some teams are looking for ways to minimise the weight/size of their packs. Hey, it's an adventure race and that goes with the territory. However, all teams should ensure that all gear is robust and reliable enough to withstand many days on an expedition race. Teams should ensure that all gear meets the necessary standards of equipment promulgated on this website
No inflatable buoyancy aids. As far as we are aware they have never been accepted at an adventure race anywhere in the world and they certainly don't meet the requirements for GODZONE
Teams should note that wearing a backpack whilst paddling the inflatable canoes or packrafts is prohibited. Teams should ensure that they have a good way of securing all backpacks, dry bags and equipment in their boats so that they don't become separated from the team in the event of a capsize. However, it is imperative that dry bags and backpacks are not packed on to rafts or canoes in a fashion that restricts easy exit for a competitor should they capsize
There are two official Dark Zones in the race for PURE & PURSUIT teams. There may be more if conditions merit it. This means no paddling between the hours of 8:30pm and 7:00am. One of the Dark Zones is unlikely to impact the teams to any significant degree and teams will be encouraged to keep walking. The other Dark Zone is on a kayak stage and stopping/waiting/camping will be mandatory if a team is caught in the Dark Zone. No portaging will be permitted. There is roughly a 40% chance of teams getting caught in a Dark Zone, but teams may strategise (with sleep and race pace) to either use or avoid the Dark Zone. With a potential 10.5hr stop in a remote location, we highly recommend that teams bring a camp stove and some dehydrated meals to help break up the awkward silences with the team navigator
Gear Check for Registration
We don't like mucking about any more than you do. We have tried to remove a lot of the faff involved with Gear Checks but, this doesn't mean we don't take equipment seriously. We do. It is your responsibility to ensure your equipment clearly meets the minimum standards required in the Mandatory Gear List and teams should remember that the List represents the minimum required for safety and conditions may well merit that more be carried. Only the following items should be brought to Race Registration for sign off:
Tent x 1
Sleeping Bags x 4
Waterproof Jackets x 4
Water Activities Helmet x 4 (white water certified)
Packrafts (these will need to be inflated so bring your pumps)
Pumps x2 (GZ Pursuit Teams)
Throw Bags x2
Personal Locator Beacon
White Strobe Light x2
PFD with knife and whistle attached x4
Kayak Bailing Devices x4


Teams are asked to bring these items to Registration to make sure they meet the minimum standard required. These will be signed off and the spec/type will be noted down by officials so that teams do not go back to their accommodation and switch items around because they are lighter (we've been racers for a long time and we know the tricks of the trade). We urge all those taking part to make sure that their equipment is up to scratch.

There will be random gear checks out on the course where various items of mandatory gear will need to be presented to officials. If equipment is missing or fails to clearly meet the criteria set out in the Mandatory Gear List then you should expect to be held up until replacements can be found, attributed a time penalty and may ultimately be disqualified. Everyone is looking for a competitive edge but scrimping on mandatory gear is not an area where you should aim to cut corners, it could save your life.
Other Items to Consider
Support Crew Vehicles
Baring some kind of flood of biblical proportions (and if that is the case, teams (and the organisers for that matter) will have other things to worry about), support crews do not need to bring a hardcore dedicated 4×4 vehicle for movements of equipment around the course. That said, some of the quickest routes between TA's is on mixed quality gravel roads. If it gets wet, it maybe optimal for support crews to take a longer route which, should avoid the usual problems associated with backcountry driving. One PURE transition area does involve driving on a relatively steep gravel road with few opportunities for passing other vehicles. A standard or even large motorhome up to 7m should be OK to get to this location. We would not recommend a giant motorhome (or anything longer than 7m) for this TA.
All support crews will receive 1 x Official Support Crew Vehicle Pass. This must be displayed in the front left dashboard of your vehicle. This will allow you access into a Transition Area for set up. No convoys of support crew vehicles please. If you have more than one vehicle following a team, please use your discretion and park the none-official vehicle in a practical location away from the Transition Area. Some sites are extremely tight and we need to ensure that there is room for every team. Please keep in mind that vehicle size will dictate final placement and massively oversized vehicles may not be able to be accommodated directly within the TA site itself. This is a wilderness event, not a rerun of Mad Max: Fury Road!
Yellowbricks (YB Trackers & PLB's)
During any kayaking, packrafting or canoeing stages the YB Tracking Device must be secured inside a competitor PFD, not inside a backpack or stored inside a dry bag that is stowed inside a hatch. When you are biking or trekking, it is very important that you place your Yellowbrick Tracking Device in the top pocket of a backpack. This ensures that battery life is preserved (vital for safety reasons) and also means that the watching hordes can track your progress. Nothing stresses out your fans, friends and family more than when your tracker stops moving for hours on end simply because you've dumped it in the bottom of your bag. When teams are on the water, they should ensure that one boat is carrying the YB Tracker and another is carrying the mandatory PLB. If boats become separated for whatever reason, both will then have a means of emergency communication.
Water Safety
Water plays an important part of GODZONE and Chapter 11 is no different. All competitors should be confident in the water, be capable of swimming 500m and know how to use a survival stroke. You should also be well aware that river crossings are an integral part of New Zealand's wilderness. Even well maintained/used tracks sometimes demanding that you cross a wide river. Take the time to work out how to cross rivers safely as a group.
Drinking Water
As a general rule the water in New Zealand is of excellent quality and few people here ever treat their drinking water when tramping out in the hills. However, it is for the teams to decide if and when to treat any they encounter. Fresh water will generally NOT be made available at Transition Areas. Support Crew should transport in their own water to all Transition Areas. If taps with running water are available these will be detailed in the Handbook but the default position for support crews is to supply their own.
Darkness and Lights
Teams are reminded to have adequate lighting for the duration. There will be some moon during the event but it's going to be head torch all the way. There will be approximately 10.5hrs of darkness each night. Support crews are recommended to have some form of charging or backups available given the duration of the event.
Dry Bags
We recommend that you have very good quality dry bags. In some sections your backpacks will get very very wet. The very lightweight variety of dry bags are OK for a backup inside your bag but when you're in an open canoe or swimming, rest assured that your gear will get absolutely soaked. The general rule is to bag three times so please take note.
Magnetic Declination
As stated elsewhere on our website, this is a significant number in New Zealand and your team navigators need to know how to adjust for it. The maps are printed to grid north and you will need to know to compensate for the declination either directly on the maps or with your compass.
Spectators
Hurrah, you can return. Please remember to respect the environment, take all your litter away with you and that this is meant to be a wilderness event. Catching up with teams midway through a stage is fine if it is an easily accessible public location (and you don't shower the team with goodies). However, we actively discourage supporters heading off into to the wilderness or on to private land to visit teams. It is not in the spirit of the race.
Medical Advice & Assistance
The organising and safety team had noticed a creeping culture of medical dependency at GODZONE. Teams increasingly expect there to be a medic on hand at all transition areas to repair minor ailments, fix sore feet and deal with the various issues that adventure racers endure. Many now park themselves down on a chair, refusing to move until their blisters are miraculously healed by a doctor (whilst they scoff some food and have a snooze). Medical staff at GODZONE are primarily there to deal with EMERGENCIES and medical problems that could have significant consequences. Teams are expected to manage their own minor ailments, foot care, etc, and should note that prevention is much better than cure. Teams should also note that medics will not be on hand at all TA's to deal with these sorts of problems and there should never be an expectation that a TA will have a medic – they may have been called away to deal with a serious issue elsewhere. The onus is on the teams to look after themselves at all times. Competitors who have feet repaired during the race are actually gaining an unfair advantage on other teams. Time penalties may be applied to any team who requires such assistance because they have failed to look after themselves. Rest assured, we want as many of you to reach the finish as possible and as healthy as can be expected – but you need to look after yourselves and your team mates, both on the course and in transition.

Final Thoughts
Three things to note before we say something kinda motivating:
One: Every year one or two people will send us a message after the race saying "There aren't enough clothes on the Mandatory Gear List. We got really cold on that stage when we were high on the hills. You should add more items". No. Use your brains. The Mandatory Gear List is the minimum required to survive should things go belly up. It's not rocket science to know that if you get cold then your body will be expending vital energy trying to stay warm, rather than aiding you in walking up that pesky hill. It is also unpleasant. We've all underestimated how cold you can get at night and after a few days slog. Prolonged paddles and dropping into valleys early in the morning (when all the cold air has descended from the hills) can catch people out too. For the sake of a few hundred grams, make sure you have enough to optimise your performance and mindset. Do not carry just the bare minimum because the list says so and that's what you think everyone else will be carrying.
Two: Paddling on rivers… This is a wilderness experience. There will be SOME water safety out there but, it is entirely unfeasible to cover off every potential hazard with safety crew. If there is a particular hazard that concerns our safety team, they may look to manage it or even dictate a forced portage. The absence of water safety staff does not, however, preclude any other potential dangers. There may be underwater hazards that have not been seen. You may paddle into a part of the river which has not been paddled before. Keep this in mind and ensure that you make the right decisions when heading down river. If you are unsure, STOP, GET OUT, OBSERVE and then proceed when ALL team members are happy that it is safe to do so. If not, find a better option by going around. It just ain't worth the risk.
Three: Let us all ensure we do our bit to preserve New Zealand's best asset (the outdoors) and take care to respect all trails, huts, private land and the environment as a whole. No litter! Leave any huts you stop at in a tidier shape than you found them. Respect any member of the public you might meet in the backcountry and remember that they might not enjoy you coming in to a hut at 3am, moaning/shouting/drying your socks on the kitchen work top. Abuse it and we might lose it.
OK, final check out. The course. It is a challenge and we believe, if the weather gods play ball, that a lot of teams have a chance to make it to the finish line this time around. There are eight days to complete the course and it is quite a bit shorter than last year's monster Chapter 10 edition. Some smart decision making and steady progress should see all teams have a fair go at cracking it. Everyone knows we are not the sort of event that wants to appeal to the lowest common denominator and just hand out finishers medals because that's the modern thing to do. "Hurrah, everyone's awesome!" No, they're not. Most people are very very average. GODZONE gives you a chance to try something a lot harder than average. But, it is only an event and you should still think of it as a great experience whether you smash out the course in 5 days or get short-coursed after 5, having made it less than half way. In short, don't come to Te Anau expecting a holiday (you can do that afterwards in style).
It's going to be difficult but, hopefully, a lot of fun and ultimately hugely rewarding. Don't get too hung up on the enormity of it all, try to break the event down into a series of stages and focus on getting those done, bit by bit. Oh and try not to fall into the Venus Flytrap of a comfy support crew supplied Transition Area. When you are a bit pooped and looking for some TLC, it can be hard to pull yourself out of the gravitational pull of a warm bed, hot food, etc. Get in, get sorted, get busy and get out. You won't finish otherwise.
Make sure you are well prepped for water safety, have all your equipment and supplies well organised before arrival and remember to fit in some good chill out time before the start. Heading into a GODZONE Chapter, 100% rested and only 70% fit, is much better than the other way around – 100% fit but only 70% rested. GODZONE wears your immune system down pretty quickly and you need to start with that side of the ledger as high as possible.
GODZONE announced back in August that it is expanding across the Tasman with a new Australian race planned for the 13th to 22nd of September 2023. Rob and his team are doing considerable amounts of work behind the scenes and lots of information is now available on the website (which you can view by clicking here). Entries are now open to teams wanting to take their expedition racing experience to another continent. The event will share many similarities with the event here in New Zealand with both events sharing many production values and the extremely popular Live Coverage platform. The new event will mirror our New Zealand racing protocols as an eight-day expedition length race, featuring two racing categories, GZ PURE and GZ PURSUIT, that allow teams to select what experience and level of difficulty they want out of an expedition race. There are some additional race announcements coming soon in Australia which focus on kayaks and other exciting developments. Something to consider once you've completed Chapter 11 here in New Zealand and are bursting with energy and looking for an additional challenge.
We look forward to seeing you in a few weeks for An Adventure Like No Other.