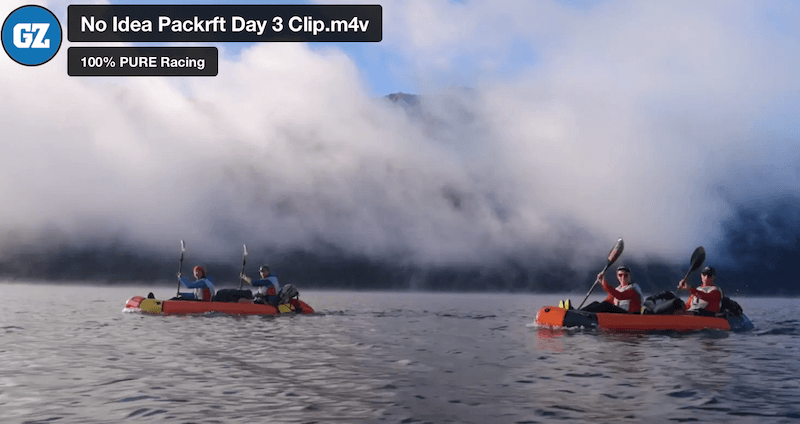 Latest News
WHO CAN CATCH AVAYA?
Saturday 25th February 2023
News Categories
Do team No Idea have a chance of catching Avaya!
The One New Zealand GODZONE race strategy plot thickens as day three moves into evening. The decision to opt for taking your pack-raft rather then trekking the second part of stage 6 from CP19 Monowai to TA6 Thicketburn is proving rewarding for some front teams.
Team No Idea were the first of the top five teams to choose to packraft and so far they have smashed the distance between them and lead team Avaya by half making the most of a tail wind. Now they have to climb the final peak above Monowai carrying their pack rafts whereas Avaya will climb without.
"This young team has backed themselves and are very much racing their own race which is amazing to watch," says Race Director Warren Bates. "They are showing us that with youth on their side they are ready to take on the challenge of choice at a critical junction in the race because they are hungry for the win!"
"Most teams like Tiki Tour and Thought Sports will usually follow the route choice of Avaya navigator Chris Forne because he rarely gets it wrong. And that's exactly what those teams have done opting to follow Avaya along the ridge tops rather than pack raft."
Bates says that means more time on feet and more time on maps.
"Tiki Tour or Thought Sports who are very much trying to stay behind Avaya could easily get the nav wrong on the ridge and that will cost them time. Meanwhile teams No Idea, Fear Youth and Rab Wahine have decided to have go pack- rafting on Monowai using the wind to power them to the point where they will now have to start climbing up.So far the advantage has been on the water."
Bates says he is still not sure which route he would have chosen himself.
"Both routes choices have their benefits but I can see how these younger teams have decided that pack -rafting removes some of the chance of navigational error and they are not afraid to trek carrying the the boats."
" I really rate No Idea who look to now be only two or three hours behind Avaya.They are a very smart, young team with maybe 4 expedition races amongst them. Avaya have all the experience in the world. Nathan has done 40 expedition races and they won't give in lightly. But I think we have a real race on here."